Young Americans are dropping their debt
A study finds people under 35 owe roughly 30% less than they did in 2007, despite spending more on college.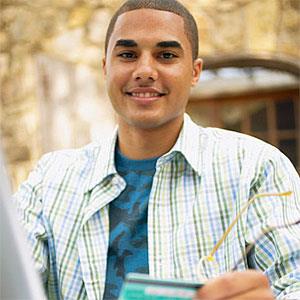 If you're 35 years old or younger, chances are you learned one really tough lesson during the recession: Keep debt to a minimum.
A Pew Research Center study released Thursday and titled "Young Adults After the Recession" found that not only did young people stop racking up credit card debt during the economic downturn, but they stopped taking on just about any debt at all while helping America drive less and, until just recently, buy fewer homes.

That's not always such a great thing for the economy, which likes it when young people buy stuff and boost the GDP, but it's wonderful for young people whose median debt dropped 29% from $21,912 to $15,473 between 2007 and 2010.
That's phenomenal compared to the burden being dragged around by older Americans. Their median debt fell by just 8%, but still weighs in at a whopping $30,070. Unfortunately, they're also far more likely to own some of the really expensive items that their younger counterparts are turning away from in droves.
It all starts with credit card debt. Young Americans who didn't see themselves as stars of their personal version of "Sex and the City" or "Confessions Of A Shopaholic" reduced the number of young households with credit card debt by 10 percentage points to 39% from 2007 to 2010.
With less credit card debt, suddenly living withing one's means doesn't seem like such a bad idea. That's especially true when unemployment climbs to 10% and you don't know where the next mortgage check is coming from. Instead of taking out a jumbo loan on a McMansion or sinking a small fortune into a one-bedroom condo, renting became the housing option of choice. As a result, home ownership by Americans younger than 35 dropped from 40% in 2007 to 35% in 2010.
And if you're renting, why not rent in a place that's close to amenities like groceries, shops, hospitals, restaurants and movie theaters and doesn't require driving all over the place? According to Census data, more Americans lived in cities at the end of 2010 than they did just a decade before. That also made them spend less on cars, as car ownership by people under age 35 fell 12%. Meanwhile, the typical car loans being paid by those who couldn't ditch their wheels dropped from $13,000 to $10,000 as sensible mid-sized cars and compacts replaced outsized SUVs.
Of course, there's probably a far bigger reason for all this cutting back than just recessionary jitters. When the bad times hit, some of the under-35 set opted to take shelter in the one place where economic reality couldn't touch them for years at a time: college. By pursuing advanced degrees and keeping the real world a few tuition payments away, these educational asylum-seekers swelled the ranks of young folks with college debt from 35% in 2007 to 40% in 2010. All the other bills are smaller, but that student loan payment still looms large.
DATA PROVIDERS
Copyright © 2014 Microsoft. All rights reserved.
Fundamental company data and historical chart data provided by Morningstar Inc. Real-time index quotes and delayed quotes supplied by Morningstar Inc. Quotes delayed by up to 15 minutes, except where indicated otherwise. Fund summary, fund performance and dividend data provided by Morningstar Inc. Analyst recommendations provided by Zacks Investment Research. StockScouter data provided by Verus Analytics. IPO data provided by Hoover's Inc. Index membership data provided by Morningstar Inc.
MARKET UPDATE
[BRIEFING.COM] The stock market began the new trading week on the defensive note with small-cap stocks pacing the retreat. The Russell 2000 (-1.4%) and Nasdaq Composite (-1.1%) displayed relative weakness, while the S&P 500 lost 0.8% with all ten sectors ending in the red.

Global equities began showing some cracks overnight after China's Finance Minister Lou Jiwei poured cold water on hopes for new stimulus measures. Specifically, Mr. Lou said the government has no plans to change ... More
More Market News