Farming, wine and journalism: Drones go mainstream
Not all drones are large, weaponized aircraft. Smaller robotic planes are being used in new ways, raising questions about privacy and abuse.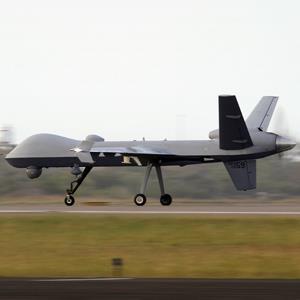 A generation ago, they were considered toys. Model rockets, radio-controlled planes and other aircraft that could take in-flight images were mainly the realm of nerdy teenagers and dedicated hobbyists.
In the years since, however, these drones, also known as unmanned aerial vehicles (UAVs), have developed into a deadly serious business for the military.

But drones aren't just for the military. A new class of civilian drones is boosting a swiftly growing commercial industry -- and the U.S. government is trying to come to grips with how to handle this new interest.
New laws require the Federal Aviation Administration to safely integrate civilian drones into American airspace by September 2015.
And according to the San Francisco Chronicle, "the drone makers have sought congressional help to speed their entry into a domestic market valued in the billions. The 60-member House of Representatives' "drone caucus" -- officially, the House Unmanned Systems Caucus -- has helped push that agenda."
Not all drones are the large, weaponized aircraft seen in the news. Some weigh only a few pounds and are the size of a large bird. But like their military counterparts, many UAVs can fly for hours at a time, and up to thousands of feet above the ground for very sophisticated maneuvers. An example is the K-Max cargo-carrying drone being developed by Lockheed Martin for military resupply missions.
And just watch this video the Los Angeles Times posted showing researchers at the University of Pennsylvania practicing "swarm" technology with what seems like a hive full of buzzing mini-drones.
Earlier this year, the president of Boeing's military aircraft unit, Christopher Chadwick, noted the market for drones is now being driven by consumer demand.
"The customer is starting to define where they need [UAVs]," he told the DoD Buzz web site. While Chadwick was speaking about Boeing's military customers, civilian demand for drones is also soaring.  Along with law enforcement -- U.S. Customs and Border Protection already uses drones for surveillance -- companies are exploring civilian applications for UAVs in areas such as agriculture, traffic control, public safety and journalism.

"UAVs can play a part in helping the American farmer lower costs and increase productivity," said James Hill, CEO of California company AirCover Integrated Solutions, told the Daily Times Record in Carroll, Iowa. AirCover recently opened a facility in Iowa for the assembly sales and marketing of its unmanned aircraft. "Unless an expensive helicopter is hired, or a flyby photo with a plane is done, farmers have limitations in assessing their crops until it's time for harvest."
An NPR affiliate at the University of Missouri is developing a drone program, using grant money, to cover rural and farm-related stories. The BBC recently reported how the global wine industry is starting to use drones for aerial mapping and soil analysis in large vineyards, using off-the-shelf technology. And just last month, the celebrity gossip network TMZ had to deny reports it was acquiring a drone -- presumably for going where human paparazzi couldn't or wouldn't.
The FAA was supposed to announce this month that a half-dozen U.S. cities that would host federally-funded drone testing sites to help integrate the devices in civilian airspace. But that announcement has been delayed by growing concerns about the potential of UAV's to violate a citizen's privacy.

"FAA does not appear to be prioritizing privacy and transparency measures in its plan to integrate nonmilitary drones into U.S. airspace," Rep. Ed Markey (D-Mass.) recently said in a statement quoted by The Hill. "While there are benefits to using drones to gather information for law enforcement and appropriate research purposes, drones shouldn't be used to gather private information on regular Americans."
But some observers believe the integration of UAVs into civilian life will make difficult, hazardous and expensive tasks safer and more cost-efficient.

"People will see (drones) more, but it won't be this kind of dystopian, 'the skies are filled with robots spying on people all the time' kind of thing," Matt Waite, a journalism professor at the University of Nebraska-Lincoln, recently told the Government Technology website. "What I think will happen in 10 years is that all manner of industries will be transformed -- but in utterly banal ways."
More from Money Now
. . AHhh,  Yes...nothing like it - a sanitized WAR......sit back and shoot rockets....very little of that old fashioned dirty war - blood-shed - maiming - boots on the ground - - fact to face killing.
No,  No,  No,,, none of the eye to eye combat - - don't fire till you see the whites of their eyes....CLEAN - - - SWIFT -  -    E A S Y .......
. . .  BUT,  Then we use DRONES for the same reasoning....no boots on the ground - - no flag draped coffins.....no grieving at the cemeteries.... ( I almost want to point out the money we save on tomb-stones..)
...four more would be terrorists arrested today. . .Plenty of room at GITMO - and the prisons.....no hard labor....nice warm bed .....food.....exerci​se....medical.....
if not first hand here - I'll post it elsewhere with the notification from the censor
JUSTIFICATION - "PEACEFUL APPLICATIONS - USEFUL FOR FUTHER DEVELOPMENT" . . . . A NATION OF PEACE - - CONSTANTLY AT WAR......RETURNING TO PEACE ??????
believe what you are told.....I was taught QUESTION AUTHORITY........
TRUTH . . . . JUSTICE . . . . THE AMERICAN WAY. . . .  
please let us remember the WAR CRIMES 
Are you sure you want to delete this comment?
DATA PROVIDERS
Copyright © 2014 Microsoft. All rights reserved.
Fundamental company data and historical chart data provided by Morningstar Inc. Real-time index quotes and delayed quotes supplied by Morningstar Inc. Quotes delayed by up to 15 minutes, except where indicated otherwise. Fund summary, fund performance and dividend data provided by Morningstar Inc. Analyst recommendations provided by Zacks Investment Research. StockScouter data provided by Verus Analytics. IPO data provided by Hoover's Inc. Index membership data provided by Morningstar Inc.
MARKET UPDATE
[BRIEFING.COM] The stock market finished the Tuesday session on the defensive after spending the entire day in a steady retreat. The S&P 500 (-0.6%) posted its third consecutive decline, while the small-cap Russell 2000 (-0.9%) slipped behind the broader market during afternoon action.

Equity indices were pressured from the start following some overnight developments that weighed on sentiment. The market tried to overcome the early weakness, but could not stage a sustained rebound, ... More
More Market News