New York Times turns out the lights at its Green blog
Was the newspaper's sudden decision a sign of continued financial hardships or a shift in editorial focus?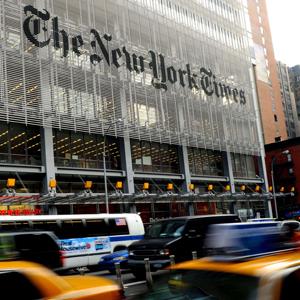 Why did The New York Times suddenly discontinue its Green blog?
Late last Friday, the paper announced it was closing down the blog, which was created "to track environmental and energy news and to foster lively discussion of developments in both areas."
The push-back was immediate, especially from Times readers. "Nine sports blogs and no room for the environment?" said Bill Bunch of Austin, Texas, in the paper's comments section. "At NYT? In this world? You've got to be kidding."
"It's clear who the bean counters at NYT answer to," wrote someone in Kansas City. "They have decided to ignore the biggest story of the century."
"I would have been much happier to have seen a cut-back to the real estate section," said Peter in Philadelphia.
As another commenter noted, "I understand that economics is a driving force behind the Times' decision to shut down the Green Blog." And that does appear to be the case. The newspaper dismantled its Environment "pod" in January and reassigned those editors and reporters to other departments.
And that decision came a month after the Times offered buyout packages to 30 newsroom managers, due to declining ad revenue.
"These are financially challenging times," Arthur Sulzberger Jr., chairman of New York Times Co. (NYT), said in a statement at the time. "While our digital subscription plan has been highly successful, the advertising climate remains volatile and we don't see this changing in the near future."

In fact, the Times has had three rounds of layoffs over the past four years. And last October, several hundred unionized Times staffers staged a walkout to protest what their representatives called "perpetually shrinking" compensation and benefits packages.
Everyone knows the newspaper industry has been in dire straits for years as print gives way to electronic journalism. U.S. newspapers saw close to 24,000 layoffs and buyouts between 2009 and last year, and more than 166 papers closed down or discontinued their print editions just between 2008 and 2010.

But is the closure of an environmental blog site at a major newspaper purely a matter of financial necessity?
"The New York Times has too much editorial integrity to abandon its environmental coverage completely," Dan Fagin, a science journalist and director of the Science, Health and Environmental Reporting Program at New York University, told Inside Climate News.
"But if you don't have the editorial structure to support the kind of commitment needed to do both daily coverage and deeper investigative and explanatory work," he said, "it is hard to imagine that you could keep the same level of intensity."
But an unnamed Times insider, according to Grist.org, says the decision means an end to both the kind of freelance reporting that appeared in the Green blog and coverage of environmental issues.

"The paper is plastic," the insider told Grist. "It reorganizes itself to meet the requirements of the world around us."
DATA PROVIDERS
Copyright © 2014 Microsoft. All rights reserved.
Fundamental company data and historical chart data provided by Morningstar Inc. Real-time index quotes and delayed quotes supplied by Morningstar Inc. Quotes delayed by up to 15 minutes, except where indicated otherwise. Fund summary, fund performance and dividend data provided by Morningstar Inc. Analyst recommendations provided by Zacks Investment Research. StockScouter data provided by Verus Analytics. IPO data provided by Hoover's Inc. Index membership data provided by Morningstar Inc.
MARKET UPDATE
[BRIEFING.COM] The stock market finished the Tuesday session on the defensive after spending the entire day in a steady retreat. The S&P 500 (-0.6%) posted its third consecutive decline, while the small-cap Russell 2000 (-0.9%) slipped behind the broader market during afternoon action.

Equity indices were pressured from the start following some overnight developments that weighed on sentiment. The market tried to overcome the early weakness, but could not stage a sustained rebound, ... More
More Market News