Ex-Enron workers: Skilling should serve full term
As the Justice Department and the former CEO's lawyers negotiate a shorter prison sentence, his old employees say it's a really bad move.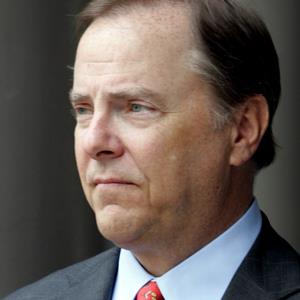 When we last left former Enron Chief Executive Jeffrey Skilling, the man convicted of fraud that turned his company, his investors' cash and his workers' livelihoods into the financial equivalent of smoldering rubble, his lawyers were hammering out
a deal with the Justice Department
for an early release from his 24-year prison sentence.
Not surprisingly, the former Enron employees whose jobs and retirement plans Skilling incinerated have a bit of a problem with that.
Some of those former workers went to CNNMoney and made it known exactly what they think of a deal that would free Skilling almost 10 years early. Diana Peters, a former technology specialist at the now-defunct energy company, lost her entire $75,000 retirement portfolio when Enron collapsed in last 2001. After losing her job at age 50, she picked up various temporary computer gigs before landing a full-time job in 2011. When she got laid off from that position, she decided to retire. As far as she's concerned, Skilling should serve every minute of his original sentence.
"It's been seven years for him, but there's no way I or many of the other people that lost money will ever get that back," Peters said.
Skilling has been appealing his conviction since 2006, when he was found guilty of conspiracy, fraud and other charges related to Enron's collapse. That bankruptcy took out 5,600 jobs, $2 billion in employee pensions and more than $60 billion in shareholder value.
Skilling's recent deal stems from a Supreme Court ruling that struck down the rules that apply to his sentencing, calling them too strict. The deal requires a judge to come up with a new sentence and requires $40 million of Skilling's seized assets to be released as victim compensation.
Sheryl Butler, who lost $120,000 in stock options when Enron collapsed, agreed with Peters and said the $40 million is worthless if Skilling is freed.
"What he did was so egregious to so many people," Butler said. "I don't have any sympathy for him."
DATA PROVIDERS
Copyright © 2014 Microsoft. All rights reserved.
Fundamental company data and historical chart data provided by Morningstar Inc. Real-time index quotes and delayed quotes supplied by Morningstar Inc. Quotes delayed by up to 15 minutes, except where indicated otherwise. Fund summary, fund performance and dividend data provided by Morningstar Inc. Analyst recommendations provided by Zacks Investment Research. StockScouter data provided by Verus Analytics. IPO data provided by Hoover's Inc. Index membership data provided by Morningstar Inc.
MARKET UPDATE
[BRIEFING.COM] The S&P 500 trades lower by 0.5% with one hour remaining in the session. The benchmark index is on course to register its third consecutive decline, while widening this week's loss to 1.3%. The Dow and Nasdaq have had a comparable showing with respective week-to-date declines of 1.2% and 1.5%, while the Russell 2000 has been unable to keep up. The small-cap index has given up 0.9% today and is down 2.3% for the week.

Today's session-long weakness has caused ... More
More Market News