Are Postal Service blues the next fashion trend?
The agency says its new line of clothing and accessories puts it on the 'cutting edge of functional fashion.'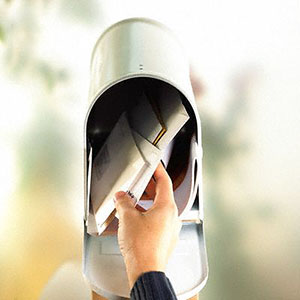 Who doesn't think "fashion" and the U.S. Postal Service? I sure do.
The beleaguered quasi-governmental agency has been able to stretch the limits of sartorial splendor through creative uses of blues and grays. Now, the USPS is branching out further into the world of fashion. As
The Washington Pos
t and other media outlets have noted, the service is launching a line of apparel and accessories next year under a licensing agreement with
Wahconah Group
.
The line is called "Rain Heat & Snow," named after those nasty elements that the USPS says won't "keep these couriers from the swift completion of their appointed rounds." 
The USPS says in a
press release
that "the agreement will put the Postal Service on the cutting edge of functional fashion." That sounds impressive. Even better, the deal doesn't cost anything and the USPS will earn a royalty based on net sales.
Ladies hoping to get in on the burgeoning postal fashion trend will have to wait. "Rain Heat & Snow" products will first only be available for men, according to the Post. The line is being developed this year. No photographs are available.
"The Postal Service is not going into the apparel business," says USPS spokesman Roy Betts in an email. "What we're doing is leveraging the USPS brand, 'Rain Heat & Snow,' to increase brand recognition to a clientele we don't ordinarily reach and generate revenue."
The USPS can use all the help it can get. The agency lost $16 billion last year, which is one of the reasons why it has decided to end Saturday delivery.

Hmmm...  Let me get this straight...   A federal government communications entity whose charter since colonial times is critical to the rise of American civilization has to literally sell the clothes off their backs just to survive!?  And you lost WHAT!? -- $16,000,000,000 !?!    SIXTEEN BILLION DOLLARS ...  with a 'B' ?!?!?  Entire nations don't lose that much money in a single year!!
What NO ONE wants to admit is they are destitute dealing with all the health and retirement costs required by of all their UNION!  Yes, (gasp) the UPS is a UNION shop.  How else do they earn $25 and up per HOUR and REQUIRED retirement and life-time health care at those income levels!?  Now UPS HAS to continue to pay and support a growing retiree base dating back to Vietnam vets - and we all know how healthy those clean-cut nonsmokers are! 
Before anyone gets their boxers in a bunch over minutia, look it up.  Video may have killed the Radio-star, and Internet may have killed letter-sending.  But decades of using tax dollars to subsidize Union demands HAS come home to roost.  SIXTEEN BILLION DOLLARS in ONE YEAR!?  Ssheesh!        
Keeping the USPS on life support with tax dollars and then setting them up to compete with private business sounds like a leap from socialism to communism.  Where does this government intend to stop?  They have brought us unwinnable wars, drones for civilian spying, bail-outs of bankrupt companies (think GM), an unaffordable expansion of so called "entitlements", a rape of the Social Security system, confounded lies about terrorism attacks on our embassies, unsustainable immigration policies, "investments" in startup companies that completely failed,  a loss in our credit rating, a total mismanagement of the postal system, a fiasco of gun sales to known drug dealers, lies about the real inflation level (remember we don't count food and fuel), usurious loan rates by credit card companies, outrageous bank fees that impact the poorest members of our society, the loss of any and all prestige in the world, a major percentage of the population dependent on the government for welfare, food stamps and unemployment checks; over $16,000,000,000.000.​00 in debt, the most costly and least effective education system of any advanced nation; a bureaucratic system that is unsustainable in either cost or effectiveness and a congress more interested in protecting perks that in strengthening the nation.  Not too many years ago in China everyone dressed in Mao costumes in blue or grey, but now they are modernizing to western style and dress and they are doing it with the money we send them to buy the shoddy clothes most Americans wear. I suppose the USPS' latest move is to get us to dress like the mindless mob of people we are fast becoming.
When do we stop this march to 3rd. world existence?  We keep telling ourselves we are the greatest nation in the world and that we are the world leaders.  We send our troops overseas at great expense to eliminate, or render ineffective, the Taliban and other terrorist groups yet we can't even control the gangs in Chicago, Los Angeles or other major cities. We'd do better by revamping our own government and by giving real leadership to the people of this country. 

Are they nuts? So many dogs HATE postmen/women. My dog would cheerfully rip the uniform off any post employee he could get his teeth into. He's gentle and sweet with every other kind of human being he meets, especially children. Every Halloween I keep him locked away for fear some child will turn up in a post office uniform for a costume. I hope these garments bear no resemblence to the USPS uniform. Oh, dear....
Are you sure you want to delete this comment?
DATA PROVIDERS
Copyright © 2014 Microsoft. All rights reserved.
Fundamental company data and historical chart data provided by Morningstar Inc. Real-time index quotes and delayed quotes supplied by Morningstar Inc. Quotes delayed by up to 15 minutes, except where indicated otherwise. Fund summary, fund performance and dividend data provided by Morningstar Inc. Analyst recommendations provided by Zacks Investment Research. StockScouter data provided by Verus Analytics. IPO data provided by Hoover's Inc. Index membership data provided by Morningstar Inc.
MARKET UPDATE
[BRIEFING.COM] The stock market finished an upbeat week on a mixed note. The S&P 500 shed less than a point, ending the week higher by 1.3%, while the Dow Jones Industrial Average (+0.1%) cemented a 1.7% advance for the week. High-beta names underperformed, which weighed on the Nasdaq Composite (-0.3%) and the Russell 2000 (-1.3%).

Equity indices displayed strength in the early going with the S&P 500 tagging the 2,019 level during the opening 30 minutes of the action. However, ... More
More Market News