New gun laws hardly adding restrictions
Since Newtown, more states have loosened regulations than have tightened them.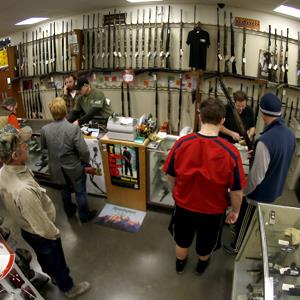 In the wake of the Newtown, Conn., school shootings, officials in five states passed seven laws that make it tougher for residents to purchase weapons. But as The Wall Street Journal noted today, 10 states have weakened such laws.
This trend, described by the Law Center to Prevent Gun Violence in The Journal, underscores the tough road advocates face in the wake of the Dec. 14 shooting at Sandy Hook Elementary that left 20 children and 6 adult staff members dead. That spurred President Obama to make gun control one of his top priorities.
However, that's going to be difficult, given that Republicans control 30 governorships and that most state legislatures are sympathetic to the arguments of the National Rifle Association and other gun rights advocates.

Residents in North Dakota will be able to carry concealed weapons in a church under a bill recently passed by the state legislature. Montana lawmakers went further, allowing people to carry a concealed weapon without a permit. The governors of both states are reviewing the bills, according to the newspaper. 

Perhaps the most surprising law The Journal found was in Tennessee, where people are now allowed to store weapon in their vehicles even if their employer objects. Stricter gun measures have even failed in states with legislatures controlled by Democrats, such as Washington and New Mexico.
Another sign that the tide isn't turning against easy gun ownership: Shares of big gunmakers Sturm Ruger (RGR) and Smith & Wesson (SWHC) have given back the gains they made previously, peaking in early March, as fears of wider sales restrictions have proven to be unfounded.

A recent report commissioned by the NRA recommended sending a trained, armed school resource officer to every school in the country and that teachers should carry firearms if they're willing to go through 40 to 60 hours of comprehensive training. Though gun control advocates and many Democrats argue this approach won't make schools safer, the NRA remains undaunted.
"There isn't a mom or a dad anywhere who wouldn't feel better seeing a police car in the parking lot when they drop their kids off at school," said Wayne LaPierre, the group's head, in a recent blog post. "But the powerful elites, who will always have their own security, called our proposal absurd. You know what's really absurd? Not protecting our children at school."
Jonathan Berr does not own shares of the listed stocks. Follow him on Twitter @jdberr.
DATA PROVIDERS
Copyright © 2014 Microsoft. All rights reserved.
Fundamental company data and historical chart data provided by Morningstar Inc. Real-time index quotes and delayed quotes supplied by Morningstar Inc. Quotes delayed by up to 15 minutes, except where indicated otherwise. Fund summary, fund performance and dividend data provided by Morningstar Inc. Analyst recommendations provided by Zacks Investment Research. StockScouter data provided by Verus Analytics. IPO data provided by Hoover's Inc. Index membership data provided by Morningstar Inc.
MARKET UPDATE
[BRIEFING.COM] S&P futures vs fair value: -5.50. Nasdaq futures vs fair value: -13.00. Nasdaq at... NYSE Adv/Dec 0/0... Nasdaq Adv/Dec 0/0.
More Market News