Boeing stands by beleaguered Dreamliner
Regulators around the world order the airliner grounded over safety concerns. Carriers are getting nervous.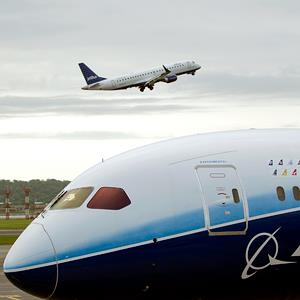 Boeing
(
BA
) has vowed to address the safety issues regarding the 787 Dreamliner quickly and thoroughly as regulators around the world have ordered the grounding of the aircraft that it spent billions of dollars developing.
"We will be taking every necessary step in the coming days to assure our customers and the traveling public of the 787's safety and to return the airplanes to service," said CEO James McNerney
in a statement.
"Boeing deeply regrets the impact that recent events have had on the operating schedules of our customers and the inconvenience to them and their passengers."
Boeing will need to do more than apologize. As the
Associated Press
notes, Poland's state-owned LOT Airlines plans to seek compensation from Chicago's Boeing for grounding its two Dreamliners and will only take delivery of the three other 787s that had been scheduled for March if the technical issues have been resolved. LOT is hardly the only airline that feels this way.
"I suspect many carriers are getting a bit nervous, particularly if they're expecting an early-production aircraft," writes
Richard Aboulafia
, of the Teal Group, an aviation consultancy, in an email to MSN.
The Federal Aviation Administration, which has been conducting a review of the 787, ordered the entire fleet grounded Wednesday amid worries about the safety of its advanced lithium ion batteries that have caught fire. This is a step that regulators haven't undertaken in four decades. Officials in Europe, Japan and India followed the FAA's lead.
Shares of Boeing, which have barely budged over the past year, are trading down in pre-market trading. The stakes for Boeing in the Dreamliner drama couldn't be higher.
"The company has outlined ambitious plans to double its production rate to 10 planes a month by the end of 2013," according to the
New York Times
. "It is also starting to build a stretch version and considering an even larger one after that."
Airlines had been keen on the 787 because Boeing had argued that the state-of-the-art aircraft could fly passengers further and cheaper because of increased fuel efficiency. Many Wall Street analysts seem to think that Boeing will be able to resolve the never-ending glitches around the 787. The average 52-week price target on the stock is $88.58, about 19% higher than where it currently trades.    
Whether investors' faith in Boeing will be rewarded remains to be seen. Another question centers around CEO McNerney. Boeing boosted his 2011
pay by 34% to $18.4 million,
in part because the company delivered the 787 after a delay of almost four years. It will be interesting to see if the company tries to claw back this bonus.


--Jonathan Berr does not own shares of the listed stocks. Follow him on Twitter @jdberr.

More on Money Now

And already the ambulance=chasing tort lawyers, whose souls should rot in a special hot dark and smelly place, are trying to drum up shareholder support to sue Boeing for damages. Of course it has nothing to so with the fact that the lawyers will get 33% of any settlement. Every law school in America should be ashamed of having produced these leeches on society.
Are you sure you want to delete this comment?
DATA PROVIDERS
Copyright © 2014 Microsoft. All rights reserved.
Fundamental company data and historical chart data provided by Morningstar Inc. Real-time index quotes and delayed quotes supplied by Morningstar Inc. Quotes delayed by up to 15 minutes, except where indicated otherwise. Fund summary, fund performance and dividend data provided by Morningstar Inc. Analyst recommendations provided by Zacks Investment Research. StockScouter data provided by Verus Analytics. IPO data provided by Hoover's Inc. Index membership data provided by Morningstar Inc.
MARKET UPDATE
[BRIEFING.COM] Equity indices remain near their flat lines as heavily-weighted sectors continue trading in mixed fashion.

At this juncture, the industrial sector (-0.6%) is the weakest performer among cyclical groups with defense contractors pressuring the space. The PHLX Defense Index is lower by 1.1% with just about every component trading lower. Including today's decline, the Defense Index is now down 2.4% for the week and off 0.7% so far in September. On the upside, General ... More
More Market News