Triumph passenger: Cruise not so bad
Stranded customers are adding some perspective after the disabled liner finally reaches port.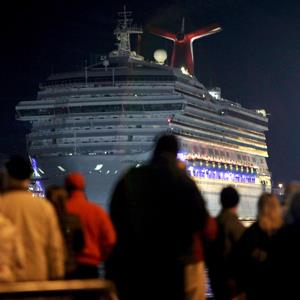 The floating privy and vomitorium known as the disabled
Carnival
(
CCL
) Triumph cruise ship
finally docked
late Thursday night in Alabama after four days in the Gulf of Mexico with overflowing toilets and dwindling food supplies.
The reports from the ship's more than 4,000 passengers, however, are a bit more measured than early dispatches from a ship so hobbled that it will be taken out of service for 12 more cruises. When CNN's Martin Savidge interviewed passenger Rob Kenny and compared conditions on the boat to those experienced in New Orleans during Hurricane Katrina in 2005, Kenny was quick to draw the distinction.
"Well, let's put that in perspective," he said. "Katrina was a major a devastation. We're out on a freaking cruise ship, and just out here having a good time. . . those are two different things."
It may have been gross, but the general opinion coming from folks aboard the Triumph was that a vacation cruise where the engines catch fire but nobody is starved, critically injured or dead afterward is still just a vacation cruise. A person claiming to be a Carnival Triumph passenger hosted an "Ask Me Anything" session Friday on Reddit and was asked if he'd ever go on a cruise again. His response:
"Yes, definitely! It really isn't nearly as bad as they're talking about. I actually had a good time."
There were some minor caveats to that revelry, however. When asked where he went to the bathroom, his only responses were "sink" and "red bag." He also noted that there were "some parts of the ship where sewage was leaking down the walls and from the ceiling."
It wasn't all camaraderie and hedonistic revelry either. Apparently there was an open bar on the second day the boat was stranded, but a rush for booze put the kibosh on that pretty quickly. There were fights over long food lines and charging stations but, again, the passenger said, it wasn't nearly as bad as it sounded to the rest of the world.
"I saw a few people crying but honestly, without the dirtiness, it wouldn't be too bad. It was like camping on a cruise ship."
That's not exactly what folks paid for, but considering the passenger's claim that customers will be getting a full refund and $500 per person -- before any potential lawsuits -- it could have been much worse.
More on moneyNOW
DATA PROVIDERS
Copyright © 2014 Microsoft. All rights reserved.
Fundamental company data and historical chart data provided by Morningstar Inc. Real-time index quotes and delayed quotes supplied by Morningstar Inc. Quotes delayed by up to 15 minutes, except where indicated otherwise. Fund summary, fund performance and dividend data provided by Morningstar Inc. Analyst recommendations provided by Zacks Investment Research. StockScouter data provided by Verus Analytics. IPO data provided by Hoover's Inc. Index membership data provided by Morningstar Inc.
MARKET UPDATE
[BRIEFING.COM] Equity indices remain near their flat lines as heavily-weighted sectors continue trading in mixed fashion.

At this juncture, the industrial sector (-0.6%) is the weakest performer among cyclical groups with defense contractors pressuring the space. The PHLX Defense Index is lower by 1.1% with just about every component trading lower. Including today's decline, the Defense Index is now down 2.4% for the week and off 0.7% so far in September. On the upside, General ... More
More Market News