Amazon's expansion plans may squeeze margins
Wall Street cheered the retailer's fourth-quarter earnings, but a profit measure the company says is most important has been trimmed as it builds data and fulfillment centers.
Deep in any annual report for
Amazon.com
(
AMZN
) is this sentence: "Our financial focus is on long-term, sustainable growth in free cash flow per share."
If that's the case, then investors should be beating up the stock of the nation's eighth-largest retailer.
Free cash flow, which the company defines as operating cash flow less capital expenditures, rose steadily between 2004 and 2009, reaching a peak of $2.92 billion, or $6.61 a share. Then, it started to drop.
In 2012, free cash flow dropped to $395 million, or about 87 cents a share. Amazon suggests that's an outlier because part of the decline came as it paid out $1.4 billion for its new headquarters in downtown Seattle. It borrowed the money to pay for the complex.
Even if you add back the $1.4 billion, free cash flow would have been $1.8 billion in 2012, down from $2.09 billion in 2012 and the third straight year decline.
The reason free cash flow has been getting squeezed is that Amazon embarked on an aggressive capital spending program. The company spent $3.87 billion in 2012 adding new data centers and 20 fulfillment centers -- as well as the new headquarters -- to wall itself off from other online retailers and continue its assault on traditional retailers, such as
Wal-Mart
(
WMT
).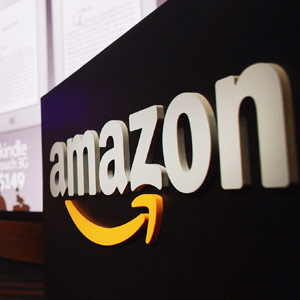 The assumption investors have made is that all that spending will mean rising earnings in years to come.
It's not clear, however, if the spending is winding down. Asked during Tuesday's call to quantify how many more fulfillment centers are coming in 2013, chief financial officer Thomas Szkutak would only say, "Just stay tuned and we will let you know as the year progresses."
If it isn't, the stock may get pressured. Amazon is often vague on details. It described its electronic-book business as "a multi-billion dollar category for us and growing fast." It said its 2012 sales were up 70% and then said its December book sales rose just 7%. But there no details. It says its Kindle e-book sales are strong but doesn't include data.
What cheered investors in Tuesday's earnings report was the expansion of the company's gross profit margin from 21% to 24%. Sales were up 22% in the fourth quarter from a year earlier to $21.3 billion and 27% year over year to $61.1 billion.
The shares climbed as much as 9% after hours. On Wednesday, the shares settled back and closed with a still-impressive 4.8% gain to $272.76. They're up 8.7% in January after rising 45% in 2012, 14th among stocks in the
Nasdaq-100 Index
(
$NDX
).
More on moneyNOW

I don't think Amazon is doomed,and they don't just sell books and CD's. Go on line and look at what they sell, it's incredible. I even bought a water pump for my car on Amazon and it was 20% cheaper that the chain auto parts store. By the way, I am currently doing construction work in an Amazon fulfillment center so I have seen their operation up close. They are extremely efficient and manage inventory very well. I think Jeff Bezo's strategy is right on. Even in a recession their sales are up and the new fulfillment centers will only make the company more profitable.
unemployment claims are staggeringly high now , the economy is CONTRACTING!!!! wow!! didn't see that comin' huh!! and this is what makes the news? Amazon is doing fine, we've got an UNEMPLOYMENT problem that's more important to deal with then anything else, spiked up 'unexpectedly' the lib scum media luv that bullshiiiit term, the correct one is "not surprisingly" spiked up, just look at whose disgracefully occupying the White House, nuff said.

By any metric, amazon's earnings were horrendous. Slowing revenue growth virtually no profit and burning through cash on hand. But since the stock is controlled by Jeff Bezos' hedge fund buddies, it does not matter
Amazon is nothing more of a glorified middleman. They do nothing proprietary and one can find everything amazon sells for far less expensive at other sites. Most vendors offer free shipping and no sales tax. Amazon charges $79 per year for "free" shipping. 
Download an app call thefind.com It comes with a scanner and you can type in the product your looking for or scan it. Or, just go to thefind.com You'll see just how many vendors offer far better pricing than amazon. I have saved thousands of dollars by not shopping on amazon.
With respect to the profit margins the author references, amazon engages in very creative, dishonest account methods which grossly inflate their numbers. They pay many of employees in stock and they don't account for that in their cost of sales. This off balance sheet accounting distorts amazon's margins to the upside. What other company could get away with this. They also said they are either going to lose 450 million in the next quarter or earn 50 million. What kind of fraudulent  guidance is this. If apple or microsoft or ibm made these kind of statements, they would get decimated. Amazon's revenue's are falling and they are making less and less money. Their revenue growth  fell to  21% this quarter from 26% last quarter. That ether means that less people are using amazon and going elsewhere to capture better deals, or amazon had to lower their pricing to keep from losing customers. Either way, this is not a good sign, especially for a stock trading at 3,200 times earnings. The reality is that amazon is in a low margin business, they have no pricing power, no proprietary products and they offer a low end experience with no compelling reason to shop there. Amazon has to keep borrowing money and taking on debt to avoid burning through cash on hand. Bezos is also very tied in with his hedge fund buddies who manipulate the stock and keep it at very lofty levels. Amazon cannot keep this scheme up forever and it is only a matter of time before the stock implodes.

Amazon should be down and apple up. Amazon makes most of it's money selling books, DVD's and CD's. All three are going bye bye. You can't make a large profit on electronic downloads because of the competition. They loose money or make next to nothing on the Kindle Fire line and download purchases do not make up the difference. Amazon is doomed to a slow but eventual decline far more than Apple.

Are you sure you want to delete this comment?
MARKET UPDATE
[BRIEFING.COM] The S&P 500 ended this week with a bang, roaring to a new all-time high on the back of stronger-than-expected economic data, influential leadership, and an ongoing appreciation for the Fed's monetary policy support.

The bullish bias was evident in premarket action as the S&P futures pointed to a higher start without the benefit of any definitive news catalyst. Stocks indeed benefited from a blast of buying interest at the opening bell on this ... More
More Market News