Whole Foods and Trader Joe's sued over lead
California's attorney general says those stores, plus Target and others, failed to warn consumers about tainted products.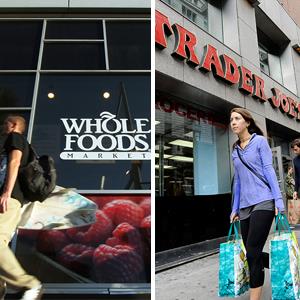 With ground beef in Europe
tainted with horsemeat
, ground turkey in the U.S.
laden with feces
and food everywhere
being mislabeled
, grocery shoppers turn their lowly eyes to a chemical-averse, free-range Superman: The organic supermarket. Well, even Superman's vision can be clouded by a little lead.
California has filed a lawsuit again Whole Foods Market (WFM) and Trader Joe's, along with Target (TGT) and other manufacturers and distributors, alleging the companies are selling lead-tainted ginger and plum candies without warning labels required by law.
Attorney General Kamala Harris' office says laboratory tests found lead in the products, but didn't note in the lawsuit how much was found. It also didn't respond to a request by the Associated Press seeking that information.
Under California's Proposition 65, a product that contains even small amounts of lead or other chemicals identified by the state as harmful to human health must carry a label warning consumers. In Whole Foods' case, the suit says the supermarket's "bulk ginger" and The Ginger People Baker's Cut Crystallized Ginger Chips violate the law. At Trader Joe's, the suit says lead was found in uncrystallized candied ginger.
Despite efforts to limit lead use and exposure, the Centers for Disease Control and Prevention says more than 500,000 U.S. children are still believed to have lead poisoning. While most were exposed to lead through old paint and dirt tainted with leaded gasoline, the CDC notes that children who come in contact with lead in any fashion risk brain damage and lower IQ as a result.
These allegations of tainted food put Whole Foods and Trader Joe's in some interesting downmarket company. Burger King (BKW), Yum Brands' (YUM) Taco Bell, Wal-Mart (WMT) and Ikea outlets throughout Europe have all come under fire for selling tainted meat.
Meanwhile, both Whole Foods and Trader Joe's were involved in a Consumer Reports study of tainted turkey meat that also drew samples from Cargill's Shady Brook Farms, Jennie-O, Perdue and Publix. The study singled out the organic grocers by noting that that conventional ground turkey and turkey labeled "no antibiotics," "organic," (which doesn't use antibiotics) or "raised without antibiotics" were equally likely to contain bacteria associated with fecal contamination.
Get those gardens ready, wary shoppers.
DATA PROVIDERS
Copyright © 2014 Microsoft. All rights reserved.
Fundamental company data and historical chart data provided by Morningstar Inc. Real-time index quotes and delayed quotes supplied by Morningstar Inc. Quotes delayed by up to 15 minutes, except where indicated otherwise. Fund summary, fund performance and dividend data provided by Morningstar Inc. Analyst recommendations provided by Zacks Investment Research. StockScouter data provided by Verus Analytics. IPO data provided by Hoover's Inc. Index membership data provided by Morningstar Inc.
MARKET UPDATE
[BRIEFING.COM] The stock market began the new week on a cautious note. The S&P 500 lost 0.3%, but managed to erase more than half of its opening decline. Thanks to the rebound, the benchmark index reclaimed its 50-day moving average (1976.78) after slipping below that level in the morning.

Equities slumped at the open amid a couple global developments that dampened the overall risk appetite. Continued student protests in Hong Kong and a potential response from China weighed on the ... More
More Market News