Love maple syrup? Thieves do, too
In what's turning out to be a great year for production, bad guys are targeting this new liquid gold.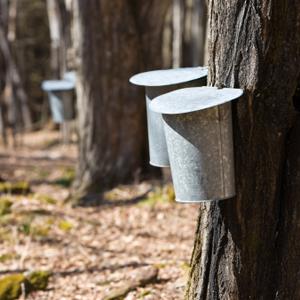 For most people, maple syrup evokes thoughts of freshly cooked pancakes and plates laden with waffles. But for a few others, the delicious sap conjures up plans for larceny. 

A crime wave is striking New England maple producers, with thefts of pricey equipment and even sap illegally siphoned from sugar maples.
Driving the rise in maple syrup crime is a jump in syrup prices, making it a new liquid gold. With prices near $40 a gallon, that's more than eight times what maple syrup fetched in 1960, according to data provided by the Vermont Maple Sugar Makers Association. That makes it pricier than crude oil (which costs about $2.25 per gallon).
On top of that, 2013 is turning out to be a great year for maple sugar producers, with more typical late winter conditions of cold nights and warm days boosting sap flow. 
"We're in some rough economic times in some parts of the country, and some people are trying to do whatever they can to do to get by," Matt Gordon, the executive director of the Vermont Maple Sugar Makers Association, told MSN moneyNOW. 
With the industry growing and investing in new technology to boost production, "there is more infrastructure that people could steal, and it's often in remote locations, where no one is watching," Gordon added.
That happened to Denny Lewis of Williston, Vt., who suffered the loss of thousands of dollars of sugaring equipment this winter, according to WCAX, a Vermont TV station. Among the items taken were a filter press and a vacuum pump, among the high-tech innovations that are making sugaring more efficient. 
Such new technology, such as tubing that carries the sap from the trees and into the sugar shacks, have helped boost production of maple syrup. The New England maple sugar industry now produces a crop that's valued at more than $62 million, or almost double the value from just a decade ago, according to the U.S. Department of Agriculture.
That's causing some thieves to see gold in the unprocessed maple sap. Some property owners in Maine, the second-largest U.S. syrup producer after Vermont, have reported holes bored in their trees, with miscreants trying to siphon off the clear sap, according to the Ottawa Citizen.
But it takes a lot more than just tapping a tree to produce the fragrant syrup, with 40 gallons of the clear liquid required to boil down to one gallon of the amber-colored liquid. 
While imitation maple syrup such as Pinnacle Foods' (PF) Mrs. Butterworth's might get the color right, they often fall short of the original flavor. Fake maple syrup such as Pepsico's (PEP) Aunt Jemima also costs a fraction of the real thing, going for about $3 for a 24-ounce container. 
"It's thought that maple syrup is a money-making opportunity, but it's just a perception," said Gordon of the Vermont Maple Sugar Makers Association. "It's incredibly hard to make a profit."
But nothing in the U.S. this year comes close to the $18 million maple syrup heist in Canada last year. Thieves made off with a portion of the country's global strategic maple syrup reserve. Details are still getting sorted out, but 23 people have been arrested in connection with the crime, according to Vermont's Seven Days.
Maple syrup has another attribute that could make it appealing to thieves: It has a shelf life that can be measured in years. 
"If it's packed right off the production line," Gordon says, "it'll keep for a long, long time."
Aimee Picchi owns shares of Pepsico, which she hasn't bought or sold in more than 12 months. She's also a resident of Vermont, an occasional writer for Seven Days and pours only pure maple syrup on her pancakes. Follow her on Twitter at @aimeepicchi.
DATA PROVIDERS
Copyright © 2014 Microsoft. All rights reserved.
Fundamental company data and historical chart data provided by Morningstar Inc. Real-time index quotes and delayed quotes supplied by Morningstar Inc. Quotes delayed by up to 15 minutes, except where indicated otherwise. Fund summary, fund performance and dividend data provided by Morningstar Inc. Analyst recommendations provided by Zacks Investment Research. StockScouter data provided by Verus Analytics. IPO data provided by Hoover's Inc. Index membership data provided by Morningstar Inc.
MARKET UPDATE
[BRIEFING.COM] The stock market finished an upbeat week on a mixed note. The S&P 500 shed less than a point, ending the week higher by 1.3%, while the Dow Jones Industrial Average (+0.1%) cemented a 1.7% advance for the week. High-beta names underperformed, which weighed on the Nasdaq Composite (-0.3%) and the Russell 2000 (-1.3%).

Equity indices displayed strength in the early going with the S&P 500 tagging the 2,019 level during the opening 30 minutes of the action. However, ... More
More Market News