The ultimate perk: First-run movies at home
A new company is offering just-released films to the high-end home theater crowd -- for astronomical prices.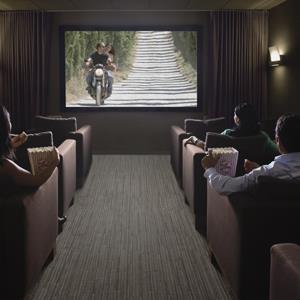 Think your home theater setup is pretty sweet? Then you might get a bit jealous or even upset when you hear about the latest, high-price perk the ultra-rich are getting for their insanely palatial viewing chambers: first-run movies.

The Hollywood Reporter says a relatively new company called Prima Cinema is offering a just-released film service to anyone with a home theater and the financial wherewithal to pay for it. According to the newspaper, Prima charges $35,000 "for a special digital box that allows films to be delivered safely over the Internet, then $500 for each title (a movie can only be viewed once over the course of a 24-hour period)."
Prima was set up in 2010 and began its service last year. It's backed by Universal Pictures, a division of Comcast (CMCSA), Syncom Venture Partners and the investment arm of Best Buy (BBY).

Company CEO Jason Pang says Prima's formula for success comes from its ability to bring an exclusive and highly desirable service to a small number of very, very affluent consumers.

"There are thousands of people out there, if not tens of thousands of people, that could buy this product," he told the Los Angeles Times. "We found the secret sauce to make billionaires act like little giddy schoolchildren."
And when you consider that some rich folks fork over several million dollars for a drop-dead home theater experience -- and that a top-of-the-line, 3-D projector runs about $100,000 -- $35,000 to see first-run films in the extreme comfort of your home might start sounding reasonable.
And of course, some snob appeal is also involved. For years, movie industry actors, producers and others -- known as the "Bel-Air circuit" -- have had first-run films couriered to their homes and then back to the studio. So now, with enough money and Prima's service, you can live like a Hollywood insider.
It's possible Prima could have unintended consequences for film exhibitors. But "nobody I've talked to thinks Prima will be cannibalistic," Universal Pictures Chairman Adam Fogelson told the LA Times, "because the clientele is too exclusive -- their customers aren't likely to go to theaters often, if ever."
Are you sure you want to delete this comment?
DATA PROVIDERS
Copyright © 2014 Microsoft. All rights reserved.
Fundamental company data and historical chart data provided by Morningstar Inc. Real-time index quotes and delayed quotes supplied by Morningstar Inc. Quotes delayed by up to 15 minutes, except where indicated otherwise. Fund summary, fund performance and dividend data provided by Morningstar Inc. Analyst recommendations provided by Zacks Investment Research. StockScouter data provided by Verus Analytics. IPO data provided by Hoover's Inc. Index membership data provided by Morningstar Inc.
MARKET UPDATE
[BRIEFING.COM] Recent action saw the S&P 500 (+0.1%) slip to a session low, while the Nasdaq Composite (-0.1%) is now in the red.

The tech-heavy Nasdaq has trailed the S&P 500 since the start and has been pressured into negative territory by the continued underperformance of chipmaker stocks. The PHLX Semiconductor Index has widened its loss to 0.8% amid weakness in 29 of its 30 components.

Furthermore, the index has also been pressured by the biotech group, which has ... More
More Market News