2012 was a big year for beer
Emerging economies are helping push up sales of wine, beer and spirits worldwide. The world's No. 1 beer isn't what you think.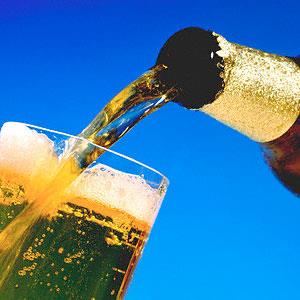 Does thinking back on the past year make you reach for a drink? You're not alone. Worldwide, sales of alcoholic beverages soared in 2012.
Part of the reason alcohol sales are booming, according to analysts, is that stronger economies in emerging markets have given consumers there a bit more discretionary income -- which they're spending on drink, and on beer in particular.
This year was a stellar one for the big brewers. Four corporate megabrewers reportedly produced almost half of the world's beer: Anheuser-Busch Inbev (BUD) -- which recently acquired Groupo Modelo, maker of Corona -- SABMiller (SBMRF), Heineken N.V.(HKHHF) and Carlsberg A/S (CABHF).
The world's biggest consumer of suds is China, which downs more than 7.39 billion gallons annually, says ValueWalk.com. China's beer market grew by 29% in volume between 2006 and 2011, according to DrinksBusiness.com. And the world's best-selling beer? China's Snow brand, a joint venture of SABMiller and China Resources, which reportedly sold around 52 million barrels in 2011.
Bud Light and Budweiser came in second and third on the global bestsellers list, with a combined 84 million barrels sold.

As a country, the United States gets the silver medal in beer drinking, consuming nearly 6.34 billion gallons per year. Part of that consumption is fueled by America's rapidly expanding craft brewing industry -- which the Brewers Association says grew in 2011 by 13% in volume and 15% in dollars compared to the previous year.
Other countries in the top 10 list of beer drinkers are Russia, Mexico, Poland, Japan (Asahi Super Dry is one of the top-selling beers in the world), Brazil and South Africa.
India is no slouch when it comes to beer drinking, either. India's Business Standard says that nation's beer industry sold between 250 and 260 million cases in 2011. And according to ValueWalk, the Indian beer industry is growing at a rate of 15%.
And lest we forget, British beer drinkers are having a good year, too. The Daily Mail reports sales of specialty British beers are up an estimated 500% this year.
And despite hard economic times in the U.S. -- or perhaps because of them -- more Americans are treating themselves to a drink at their local bar or restaurant.
A recent report by the Technomic research firm says sales of beer, wine and spirits at restaurants, bars and similar licensed establishments grew by 4.9% in 2011 to $93.7 billion.
"Looking at 2012 and beyond, we see continued growth," said Technomic vice president David Henkes in the report, "although the evolving economic situation will ultimately influence 2013 performance across the on-premise segments and the beverage categories."
More on Money Now

BUDWEISER AND THE REST OF THE BIG BEER COMPANIES SUCK! SAMUEL ADAMS IS THE BEST AMERICAN BEER NOW BUT
MICRO BREW AND SMALL BEER MAKERS ARE THE BEST. PROBLEM WITH AMERICAN BEER DRINKERS IS MOST DRINK THAT
BUDLIGHT AND MILLER LITE CRAP! CAUSE THAT'S WHAT IS COOL IN THE COMMERICIALS. AND IT'S CHEAP SWILL.

Hillary Clinton put a lot of it down while trying to dance.  Don't know it if caused the blood clot or it it prolonged it.  I thought beer would have dissolved it.  Country going to hell and this beer drinking makes news.  Chavez they say has problems.  America has many more problems.  Congress cant add shittt and they have us up to our eyeballs in debt.  So, we'll go back to work Tuesday and work hard for less pay to try to pay off thier debts.  And, the worst part is we'll put their sorry ashies back in office again.  Please, Pakistan, buy some of those German drone busters so you can better protect your women and children from drone bragging Obama.  Thanks Germany, for defeating the new Satan.  You gonna make de ole boy cry.  Waiting on BREAKING NEWS of a "deal". They say it is goinna happen. Now they say it aint.  I thinks it is before midnight tonight!!! Me thinks dey is gonna nounce a last miniute compermise!
Are you sure you want to delete this comment?
DATA PROVIDERS
Copyright © 2014 Microsoft. All rights reserved.
Fundamental company data and historical chart data provided by Morningstar Inc. Real-time index quotes and delayed quotes supplied by Morningstar Inc. Quotes delayed by up to 15 minutes, except where indicated otherwise. Fund summary, fund performance and dividend data provided by Morningstar Inc. Analyst recommendations provided by Zacks Investment Research. StockScouter data provided by Verus Analytics. IPO data provided by Hoover's Inc. Index membership data provided by Morningstar Inc.
MARKET UPDATE
[BRIEFING.COM] The stock market finished the Tuesday session on the defensive after spending the entire day in a steady retreat. The S&P 500 (-0.6%) posted its third consecutive decline, while the small-cap Russell 2000 (-0.9%) slipped behind the broader market during afternoon action.

Equity indices were pressured from the start following some overnight developments that weighed on sentiment. The market tried to overcome the early weakness, but could not stage a sustained rebound, ... More
More Market News