The mad scramble for coveted skilled-worker visas
Only 65,000 H-1Bs will be issued this year, far fewer than American companies' overwhelming demand for them.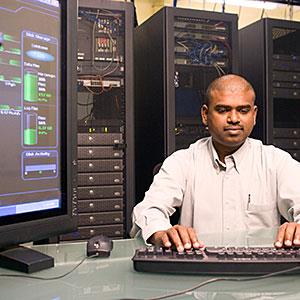 The race is on this week for skilled foreign workers hoping to find employment in America via the coveted H-1B visa program -- and for the U.S. corporations looking to employ them.
The H-1B visa program allows U.S. employers to hire foreigners in specialty positions for three years at a time with the option to extend that period up to six years.
According to the U.S. Citizenship and Immigration Services (USCIS), there's a limit of 65,000 H-1B petitions for fiscal 2014 beginning in October. However, the first 20,000 visa petitions "filed on behalf of individuals with U.S. master's degree or higher are exempt from the fiscal year cap of 65,000."
The Brookings Institution says the companies requesting H-1B workers are mostly large outfits specializing in info tech, electronics manufacturing and "STEM" -- science, technology, engineering and mathematics. But non-Americans with experience in health care, finance, business and life sciences are also being headhunted.
Industry groups say applications will be frenzied this week because the cap of 65,000 visas is nowhere enough to meet the high demand, partly due to a lack of the necessary skills among American workers.
"There are individual software companies with thousands of unfilled jobs in research, product development, and engineering," Robert Holleyman, president and CEO of the advocacy group BSA/The Software Alliance said in a press statement.
"Across the economy, the Bureau of Labor Statistics has predicted that between 2010 and 2020 there will be at least 1.2 million job openings in computing professions that require a bachelor's degree," he noted. "But the National Center for Educational Statistics says we're on pace to produce less than half that many graduates."
The Software Alliance is calling on the federal government to reform the "antiquated" H1-B visa system. "We need a two-pronged solution for this problem," Holleyman said, "coupling long-term improvements in STEM education with targeted reforms for high-skilled immigration."
Federal officials expect all 85,000 H1-B visas to be filled before the weekend, which experts say is an encouraging sign for the U.S. economy and young workers.
In the heartland, "there's a huge demand for STEM workers in particular," Tom Kochan, a management professor at MIT, said in an interview with American Public Media's Marketplace program. "And they really can't find local workers to fill those job needs." But Kochan says some employers also use the H1-B visa program to seek less expensive workers.
"I worry that it's a cheap alternative," he said, "sometimes a revolving door where companies hire temporary workers at a lower wage."

"which experts say is an encouraging sign for the U.S. economy and young workers."

Why on Earth would this be encouraging to young (American) workers?  In 2012 just twelve offshore outsourcing firms were approved for 42,501 visas.  These companies are sending our jobs offshore and using the H-1b program to do that.
This is discouraging to young people, despite this industry puff-piece that cherry picks data and ignores the facts: most workers hired on the visa work for offshore outsourcing firms, in the IT industry, are young, and paid less than their peers.  The GAO reported that 26% of H-1b petitions in the computer professions were "factually wrong or fraudulent".
I am tired of these industry front-groups painting an incomplete picture of the program.  There may be some jobs created and there may be some very experienced people on the H-1b visa.  But that is the exception, not the rule. 
Stop killing American jobs.  Stop allowing corporations to be immigration middle-men; they only want that role so they can control the worker by the leverage they have in that role - and to pay them less.  If it looks like indentured servitude, smells like indentured servitude, and acts like indentured servitude - it must be indentured servitude.  Send that practice back to the 1700s where it belongs. 

H-1B visas are a SCAM that is harming both our national interests and citizens.   Search on "Cohen & Grigsby video" or "H1-B SCAM" for the TRUTH.
There are currently over TWO MILLION UNEMPLOYED engineers in the United States. And corporations will not hire beyond age forty (i.e. "senior" worker cost too much). Meanwhile US wages are crashing and STEM enrollment is in decline due to the poor job and career prospects.
This is unequivocally about GREED. Greed that is destroying our nation's base of engineers, scientists and technology workers.   H-1B visas should be ABOLISHED post haste.

We take in 150 thousand legal immigrants  a month. I would guess mostly unskilled workers. Thats $215,000. Plus the thousands streaming across the southern border for the democrats along with Graham and McCains amnesty.
The majority of illegals are from Mexico. I have a great respect for their work ethic. However, look at the numbers - they make an average of $22,000 and have an average of 2-3 kids. Citizenship means an automatic eligibility for food stamps, WIC, free school lunches, subsidized housing, Medicaid, free cell phones, SSDI if their back hurts, TANF cash, SSI cash, etc....
At tax time in April, when 53% of Americans are paying taxes, the new citizens would be getting huge bonus checks that include all the money that they paid in during the year plus EITC and Child Tax Credits. The 53% cannot afford more burdens to pay for. We already have 40,000,000 home grown welfare cases that we have to support.
Lawmakers are about to give the OK to millions. Our country will never recover.
Are you sure you want to delete this comment?
DATA PROVIDERS
Copyright © 2014 Microsoft. All rights reserved.
Fundamental company data and historical chart data provided by Morningstar Inc. Real-time index quotes and delayed quotes supplied by Morningstar Inc. Quotes delayed by up to 15 minutes, except where indicated otherwise. Fund summary, fund performance and dividend data provided by Morningstar Inc. Analyst recommendations provided by Zacks Investment Research. StockScouter data provided by Verus Analytics. IPO data provided by Hoover's Inc. Index membership data provided by Morningstar Inc.
MARKET UPDATE
[BRIEFING.COM] S&P futures vs fair value: -6.60. Nasdaq futures vs fair value: -14.50. The S&P 500 futures trade seven points below fair value.

Markets across most of Asia ended on a lower note, while Japan's Nikkei was closed for Autumn Equinox.

Economic data was limited:

China's HSBC Manufacturing PMI ticked up to 50.5 from 50.2 (expected 50.0)
Singapore's CPI eased to 0.9% year-over-year (expected 1.2%; previous ... More
More Market News