Why the Bangladesh factory disaster matters
Western apparel companies and their customers rely on the country's low wages and efficient operations. Will the latest tragedy make any difference?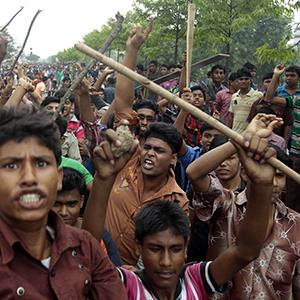 Last week's collapse of a factory building in Bangladesh is turning into a horrific milestone for that nation's economically essential garment industry -- and it may be one of the worst industrial accidents ever.
Nearly 400 people are known to have been killed when the eight-story building collapsed, and at least 1,000 others remain unaccounted for. Several individuals were arrested in connection with the disaster -- including the building's owner, who tried to flee to India. Bangladeshi garment workers have taken to the streets in sometimes violent protests (pictured) against their unsafe working conditions and have burned several factories.
The human tragedy unfolding outside of Dhaka is also throwing a strong spotlight on retailers in the U.S. and Europe that rely on the developing world to produce cost-efficient clothing for Western consumers.
On Friday, The New York Times reported some U.S. labor groups released photos they said showed garments apparently produced at the Bangladesh factory collapse site with labels from J.C. Penney (JCP) and from a Spanish retailer, El Corte Inglés.
The U.S. and Canada receive nearly 30% of Bangladesh's garment exports, with an additional 60% going to Europe. But until recently, as Reuters notes, the dozens of Western retailers and apparel makers that depend on Bangladesh-produced clothing had taken a hands-off approach when it comes to labor issues there.
According to the wire service, shareholders at Wal-Mart (WMT) were given an opportunity several years ago to vote on a proposal requiring the company's suppliers to issue annual reports on safety issues at their factories. But that proposal was rejected, "by a nearly 50-to-1 margin," with the company arguing such safety reports would boost its prices and place it at a competitive disadvantage. Wal-Mart has changed its approach since then and has recently announced a "zero tolerance" policy aimed at preventing unsafe working conditions.

Analysts say most retailers still see partnerships with producers in China, Bangladesh and other countries as financially attractive, despite the negative publicity generated from last week's disaster or, for example, the 2012 fire in another Bangladeshi garment factor that killed at least 112 people.
"Bangladesh is a very viable source for apparel retailers," Michael Silverstein, senior partner and managing director at Boston Consulting Group, told Reuters.
"It has very low labor cost, good operational efficiency and because it produces in such large quantities, supply-chain costs are also low," he added. "Obviously safety and health conditions need to be tightly policed. Suppliers need to be rated and visited frequently."
But even activists fighting for better working conditions worldwide acknowledge they have an uphill fight against the economic hard times Western consumers face. "With globalization has come consumer apathy," Anna McMullen, with the British group Labour Behind the Label, recently commented on CNN.com.

"Who cares about people who make clothing? As long as it is cheap we will buy it. Especially in a recession, cheap clothing is a welcome industry for many. People in western countries living on the poverty line need to buy clothes for their children."
DATA PROVIDERS
Copyright © 2014 Microsoft. All rights reserved.
Fundamental company data and historical chart data provided by Morningstar Inc. Real-time index quotes and delayed quotes supplied by Morningstar Inc. Quotes delayed by up to 15 minutes, except where indicated otherwise. Fund summary, fund performance and dividend data provided by Morningstar Inc. Analyst recommendations provided by Zacks Investment Research. StockScouter data provided by Verus Analytics. IPO data provided by Hoover's Inc. Index membership data provided by Morningstar Inc.
MARKET UPDATE
[BRIEFING.COM] Equity indices remain near their flat lines as heavily-weighted sectors continue trading in mixed fashion.

At this juncture, the industrial sector (-0.6%) is the weakest performer among cyclical groups with defense contractors pressuring the space. The PHLX Defense Index is lower by 1.1% with just about every component trading lower. Including today's decline, the Defense Index is now down 2.4% for the week and off 0.7% so far in September. On the upside, General ... More
More Market News