Blacklist awaits retail workers accused of theft
Employees don't have to steal a dime for their records to be permanently tarred in databases used by Target, CVS and other stores.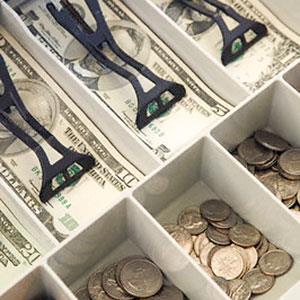 How do you keep nearly 8 million workers in constant fear of losing their jobs without actually threatening to lay off any of them? Just assure them that if they're accused of stealing at your store, they'll never work in retail again -- ever.
Note the wording of that last sentence and let that sink in a second: Accused of stealing. As The New York Times reports, an employee doesn't have to take a dime while working in stores like Target (TGT), Rite Aid (RAD), CVS (CVS), Family Dollar (FDO) and others in First Advantage Corp.'s Esteem database. Just a vague hint on the employee's electronic record showing that he or she had merchandise go missing during a shift or a poorly phrased written statement submitted after a sit-down with store security officers could permanently tar an employee's record.
In the case of one former Forman Mills employee quoted by the Times, all it takes is a suspected theft of less than $35 to brand a worker for life.
Retailers have very little tolerance for employee theft, which accounted for 44% of all store thefts in 2011, or $15 billion in lost merchandise, according to retail trade group The National Retail Federation. However, lawmakers and regulators are growing increasingly impatient with retail databases' low bar for blacklisting and store security officers' methods of coercing what sounds like a confession out of otherwise innocent employees -- a move that would cause a great deal of trouble for a law enforcement official attempting the same.
Since the recession, lawsuits have mounted against companies like GIS, HireRight and LexisNexis (ENL) that run or once ran retail employee databases. The Federal Trade Commission (FTC) also has received myriad complaints about the databases and is examining whether they comply with the Fair Credit Reporting Act, which combats inaccurate consumer information and gives consumers more control over their personal data.
Last summer, the FTC settled charges with HireRight over accusations that its retail-theft database contained inaccurate records and that HireRight made it too difficult for those accused to dispute claims. LexisNexis agreed last week to pay $13.5 million to settle a class-action lawsuit on behalf of 31,000 people that accused the firm of violating consumer protection laws by selling background checks to debt collectors. The company did not admit wrongdoing but ceased its ownership of the Esteem database this year.
Though the National Retail Federation says nearly all retailers perform background checks while hiring, it fails to mention that even episodes of suspected shoplifting make it into employees' records and become red flags to potential employers.
As the databases draw increasing fire, retailers are starting to back off a bit. Home Depot (HD), for example, dropped the Esteem database this year after a review of "systems and services."

I have a feeling my former DM is using this as a spite tool.  She frequently mentions ESTEEM as a means of keeping employees in line.  I have NEVER stolen a thing in my life but since I walked out due to her abusive and unprofessional personality I haven't gotten even a call for an interview in jobs that would normally be calling right away.  I know the job market is tight, but I have been head hunted and had the pick of positions in the past.  All of a sudden...nothing?
Are you sure you want to delete this comment?
DATA PROVIDERS
Copyright © 2014 Microsoft. All rights reserved.
Fundamental company data and historical chart data provided by Morningstar Inc. Real-time index quotes and delayed quotes supplied by Morningstar Inc. Quotes delayed by up to 15 minutes, except where indicated otherwise. Fund summary, fund performance and dividend data provided by Morningstar Inc. Analyst recommendations provided by Zacks Investment Research. StockScouter data provided by Verus Analytics. IPO data provided by Hoover's Inc. Index membership data provided by Morningstar Inc.
MARKET UPDATE
[BRIEFING.COM] S&P futures vs fair value: -8.00. Nasdaq futures vs fair value: -19.00. Nasdaq at... NYSE Adv/Dec 0/0... Nasdaq Adv/Dec 0/0.
More Market News