Tornado shelters become a vital business
Recent deadly and devastating storms have given momentum to a growing market for a wide variety of safe rooms.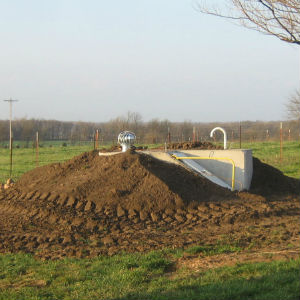 Americans have a history of underground bunkers. Think of the fallout shelter boom during the Cold War. Or the flurry of survivalist activity before Y2K, that point at the start of the millennium when all the computers were supposed to shut down and thrust civilization into an apocalypse.
But the annual -- and very real -- threat of lethal weather is driving a new boom in tornado shelters as more Americans find themselves in the path of deadly storms like the one that roared through suburban Oklahoma City on Monday.
Experts say sheltering in place and getting underground during a tornado are your best bets for survival, but that advice might not always be practical.
According to the National Association of Home Builders, the overall number of new U.S. homes built with full or partial basements -- a traditional haven during severe storms -- has declined significantly over the past decade or so. And a U.S. Census Bureau report notes that only 30% of single-family homes completed in 2011 had a full or partial basement, while 53% had a slab or other type of foundation and 17% had a crawl space.
Two types of shelters are growing in popularity: the in-ground shelter, buried near a home (like the pictured shelter on a ranch outside Joplin, Mo.) and reinforced, anchored, above-ground tornado rooms that are installed inside a home.
Prices for shelters can vary greatly. Small prefab, boxlike underground shelters can run several thousand dollars, including installation, while roomier, furnished excavations that can house scores or even hundreds of people cost hundreds of thousands of dollars.
Jeremy Davis, a co-owner of Twister Safe in Neosho, Mo., just outside of Joplin, switched over from welding and set up a business in 2004 with his father to design, produce and install above-ground shelters. They had a steady flow of customers for the first several years, but everything changed after the May 2011 E5 tornado that tore through downtown Joplin, killing 161 people -- one of the costliest tornadoes in U.S. history.
"We had roughly seven (installed tornado shelters) that were in the actual storm," Davis told MSN Money. "Two took direct hits. Every single one of them was still there."
Since the Joplin tornado, Twister Safe now builds and sells 350 to 400 shelters annually, with customers across America's Tornado Alley -- stretching from Texas east to Tennessee. The company also hired more people and moved into a 10,000-square-foot office and production space. "It went from a mom-and-pop business to an actual business," Davis says.
Both FEMA and the National Storm Shelter Association have established guidelines for tornado shelters that require them to pass impact tests. FEMA, along with some states like Oklahoma, also have rebate programs for homeowners who purchase and install safe rooms.
But economics can get in the way of safety. Just last February, Moore, Okla., which took the brunt of Monday's tornado, noted with frustration that the city's safe-room rebate program had been put "on hold" by the state and FEMA due to changes in federal regulations.

"We've found that the FEMA requirements and their interpretations seem to be a constantly moving target," the city's website says.
As with any major purchase, consumers need to do their research before purchasing a storm shelter. "We want to encourage the building of shelters, but we want to ensure they are of good quality," Ernst Kiesling, a professor of civil engineering at Texas Tech, who's also heads the National Storm Shelter Association, recently told the Phys.org website. "We do not wish people to be lured into a false sense of security when lives are at stake."

"We don't try to outguess a tornado," he added. "We just design for the worst-case scenario."

More on moneyNOW

Number one
problem-Greed-Person​ally
a 73% increase was ridiculous to agree with any team or sport. I cannot afford my cable bill anymore because of the cost. Worst yet ESPN dictates to the cable companies what other channels they have to have. ESPN 1 and ESPN 2..I wish I had a choice on what channels I could subscribe to. Between Sports and News Channels they dominate the cable box. I think it is a long time overdue that people try to boycott these people. The salaries they pay to their employees, the athletes and everyone involved is ridiculous.  
Are you sure you want to delete this comment?
DATA PROVIDERS
Copyright © 2014 Microsoft. All rights reserved.
Fundamental company data and historical chart data provided by Morningstar Inc. Real-time index quotes and delayed quotes supplied by Morningstar Inc. Quotes delayed by up to 15 minutes, except where indicated otherwise. Fund summary, fund performance and dividend data provided by Morningstar Inc. Analyst recommendations provided by Zacks Investment Research. StockScouter data provided by Verus Analytics. IPO data provided by Hoover's Inc. Index membership data provided by Morningstar Inc.
MARKET UPDATE
[BRIEFING.COM] Precious metals are trading lower this morning. Dec gold brushed a session low of $1212.50 in recent action and is now down 0.2% at $1214.60. Dec silver traded as low as $12.57 but has been inching higher in recent trade. It is currently at $17.71, or 0.8% lower.

Nov crude oil pulled back from its session high of $91.82 set at pit trade open and is slipping deeper into negative territory. It touched a LoD of $90.77 and is currently down 0.9% at $90.86.

Oct natural ... More
More Market News