Powerball's wacky sense of humor
The multistate lottery has a bit of fun on its website. Of course, it's easy to be lighthearted when you're giving away $600 million.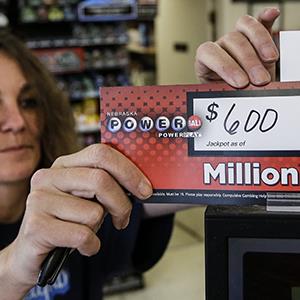 Life is fun when you have $600 million on your hands. Just ask the folks at Powerball.
The lottery has quite a sense of humor on display on its
information
and its
"real letters"
pages. The Multi-State Lottery Association gets tons of email -- as much as one per minute on days like Friday when Powerball fever is at its peak -- and so it set out to answer some of the most common player questions.
Here are some of the words of wisdom from the stand-up comedians over at Powerball:
Leave the chickens alone.
"Swinging a live chicken above your head while wishing for the future numbers does NOT work," the site notes. "There is no improvement to be had by swinging a dead chicken. Although I have not tested it, swinging a bucket of extra crispy is not likely to work either." This will not be welcome news at
Yum Brands
' (
YUM
) KFC.
Powerball tickets do expire.
Usually from 90 days to a year. "The universe is decaying and nothing lasts forever," the association says. Deep.
Powerball is indeed a random game.
"There really is no
white/black/old/youn​g/rich/poor,
etc. button on the machine," the association says. "If one draws a box around some group of players (e.g., state border, hair color, shoe size), then that group of players will win in proportion to their play." It makes no difference where you buy your ticket, either.
When an annuity is not guaranteed.
"You can imagine some instances where even a Powerball jackpot will not continue: (1) A meteor strikes North America, wiping out all life. (2) The U.S. government is overrun by (insert name of feared enemy here). Short of these events, the Powerball annuity prize will be paid on schedule."
In answering a player question about the number 19:
"I like it. An odd mix of the smallest number and the largest -- together in one package. It speaks to the extremes of the Universe and yet shows how they can be inexorably tied. . . Although a mere number, as humans, we can't but help to tie it to other numbers by which we judge ourselves."
On whether felons can win:
"An ESCAPED convicted felon could play and win. But, as far as I know, there are no lottery terminals in the hoosegow."

On one woman's Powerball strategy argument with her fiance:
"You really don't want to get into this, do you? Better to wait until after the wedding before you start proving to him that are always right."
Are you sure you want to delete this comment?
DATA PROVIDERS
Copyright © 2014 Microsoft. All rights reserved.
Fundamental company data and historical chart data provided by Morningstar Inc. Real-time index quotes and delayed quotes supplied by Morningstar Inc. Quotes delayed by up to 15 minutes, except where indicated otherwise. Fund summary, fund performance and dividend data provided by Morningstar Inc. Analyst recommendations provided by Zacks Investment Research. StockScouter data provided by Verus Analytics. IPO data provided by Hoover's Inc. Index membership data provided by Morningstar Inc.
MARKET UPDATE
[BRIEFING.COM] S&P futures vs fair value: -5.80. Nasdaq futures vs fair value: -12.80. U.S. equity futures trade modestly lower amid cautious action overseas. The S&P 500 futures hover six points below fair value after climbing off their overnight lows reached during the Asian session. The night has been very quiet on the economic front with several central bank and government officials playing down expectations of additional stimulus. On that note, China's Finance Minister Lou Jiwei ... More
More Market News