A favorite yuppie wine runs into trouble
Can the low-priced Yellow Tail brand survive a financial crunch? The strengthening Australian dollar lies at the heart of the problem.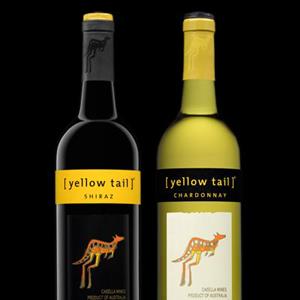 Grocery stores seem to have miles of shelves featuring Yellow Tail wine, the Australian brand that's climbed to best-selling status among U.S. households by combining a smooth taste with a reasonable price.

But Yellow Tail may be at risk: The brand's owner, Casella Wines, is in emergency talks with its lender, and failure to secure a new loan from the bank could mean the sale of vineyards or other assets, reports the Wall Street Journal.
At the heart of the problem is the strengthening Australian dollar, which led to Casella's first loss in more than 20 years. More than three-quarters of its sales stem from the U.S. 
"There is no volume issue, it is all about the exchange rate," chief executive John Casella told the WSJ. "The currency is having serious implications for a lot of Australian manufacturers."
Yellow Tail's become something of a monster for the Australian wine industry: 20% of all bottled wine exports from the country bear the Yellow Tail label, according to Casella Wines. 
The brand has won over money-conscious drinkers by producing more than a dozen low-priced wines under its basic Yellow Tail label, ranging from Chardonnay to Shiraz. It's also expanded into slightly higher-end products with the Yellow Tail Reserve brand, which sells in the $10 to $12 range per bottle.
Yellow Tail has become a favorite table wine of yuppies and others who want a decent bottle at reasonable prices. While the future of Yellow Tail's vineyards may be in doubt, its low price point will remain, with Casella noting that raising prices could be counterproductive and hurt its push into Asian countries. 
In the meantime, the company hopes to secure a deal with its lender, the National Australia Bank, ahead of a Jan. 30 deadline, and then to wait it out. 
"We are working out how we go forward. Provided we have the support of our financiers, we can make little or no money for a year or two," Casella told the Australian Financial Review. "I'm hopeful the dollar is overvalued and we can return to some normality."
More on Money Now

75% of their sales come from the US.  They are losing their shirt because of the strengthening Aussie dollar against the US dollar.  Perhaps the real problem is a weakening  US dollar.  Remember when Romney wanted to label China as a currency manipulator?  Perhaps the Aussies should follow suit and label the USA as currency manipulators.

Are you sure you want to delete this comment?
DATA PROVIDERS
Copyright © 2014 Microsoft. All rights reserved.
Fundamental company data and historical chart data provided by Morningstar Inc. Real-time index quotes and delayed quotes supplied by Morningstar Inc. Quotes delayed by up to 15 minutes, except where indicated otherwise. Fund summary, fund performance and dividend data provided by Morningstar Inc. Analyst recommendations provided by Zacks Investment Research. StockScouter data provided by Verus Analytics. IPO data provided by Hoover's Inc. Index membership data provided by Morningstar Inc.
MARKET UPDATE
[BRIEFING.COM] S&P futures vs fair value: -6.30. Nasdaq futures vs fair value: -14.80. U.S. equity futures trade hover near their pre-market lows amid cautious action overseas. The S&P 500 futures hover six points below fair value, which puts the benchmark index on track to continue its retreat after losing 0.8% yesterday.

Overnight, markets in Asia traded in mixed fashion, but sentiment worsened after the start of the European session, where all the key indices hold losses ... More
More Market News