How Gore became as rich as Romney
The former veep's loss to Bush allowed him to focus on business. Selling Apple stock and Current TV added plenty to his coffers.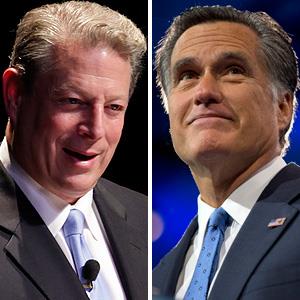 Losing to George W. Bush in the 2000 presidential election may have been the best thing to happen to former U.S. Vice President Al Gore's bank account. 

When Gore was running for president, he had a net worth of about $1.7 million, not shoddy by any means. Yet today, Gore's fortune may have topped $200 million, making his previous wealth seem paltry by comparison. 
The former senator has transformed himself into a mogul whose wealth rivals that of former presidential candidate Mitt Romney, who was often derided during last year's election for being out of touch with the average American. 
Gore's new-found wealth has also served as an irritant, with many Americans now perceiving him as a hypocritical liberal who's enjoying the bounty of capitalism -- like his lavish, energy-hogging Nashville home -- while telling the rest of us to turn off the lights and switch to fluorescent bulbs. 
Whatever you may think of Gore, how he earned his millions makes for a fascinating look at the intersection of business, political access and luck. Below are seven ways he built his fortune, according to a report from Bloomberg. 
Selling $30 million in Apple stock. Gore joined Apple's (AAPL) board when the late Steve Jobs asked him to take on the role in March 2003. Apple was trading at $7.50 per share when Gore got on board, and now the stock trades above $400. Earlier this year, he made $30 million from the sale of 59,000 shares he had been granted for serving on the board. 
Earning $175,000 per speech: While his best-selling books, such as "An Inconvenient Truth," haven't added to his wealth -- he pledged their earnings to his nonprofit, the Climate Reality Project -- they've made him hot on the speaker's circuit, where he earns $175,000 per speech. 
Paying himself $1.2 million: Gore, along with partners including Los Angeles billionaire Ron Burkle, bought a small Canadian cable news network for $70 million in 2004 and renamed it Current TV. Gore paid himself $1.2 million a year in salary and bonuses, while the network failed to gain a mass audience. 
Reaping $70 million from Current TV's sale: Even though Current had failed to compete on the same level as Time Warner's (TWX) CNN and News Corp.'s (NWS) Fox News, Gore and his partners sold the network to Al Jazeera earlier this year for about $500 million. Gore's profit was an estimated $70 million for his 20% stake. 
Splitting $218 million in investment profits: Gore founded an investment firm called Generation Investment Management with former Goldman Sachs (GS) executive David Blood in 2004. While it's not known how much Gore has made from the venture, it took in about $218 million in profits from 2008 to 2011, which were to be split among its 26 partners. It's believed that Gore and Blood have the largest equity stakes. 
Getting rich pay from Google:  Before Gore was asked to serve on Apple's board, he worked as a senior adviser to Google (GOOG) prior to its 2004 IPO. While Google won't discuss Gore's pay, some people believe it might be as large as his remuneration from Apple. 
Holding $45.6 million in Apple shares and options: Gore continues to hold a sizable chunk of Apple restricted stock and options, with a gross value of more than $45.6 million. 
Follow Aimee Picchi on Twitter at @aimeepicchi.
DATA PROVIDERS
Copyright © 2014 Microsoft. All rights reserved.
Fundamental company data and historical chart data provided by Morningstar Inc. Real-time index quotes and delayed quotes supplied by Morningstar Inc. Quotes delayed by up to 15 minutes, except where indicated otherwise. Fund summary, fund performance and dividend data provided by Morningstar Inc. Analyst recommendations provided by Zacks Investment Research. StockScouter data provided by Verus Analytics. IPO data provided by Hoover's Inc. Index membership data provided by Morningstar Inc.
MARKET UPDATE
[BRIEFING.COM] The stock market began the new trading week on the defensive note with small-cap stocks pacing the retreat. The Russell 2000 (-1.4%) and Nasdaq Composite (-1.1%) displayed relative weakness, while the S&P 500 lost 0.8% with all ten sectors ending in the red.

Global equities began showing some cracks overnight after China's Finance Minister Lou Jiwei poured cold water on hopes for new stimulus measures. Specifically, Mr. Lou said the government has no plans to change ... More
More Market News