Supreme Court avoids the gun debate -- for now
It won't review a New York pistol-permit law, dealing a blow to gun-rights advocates. The issue won't be going away, though.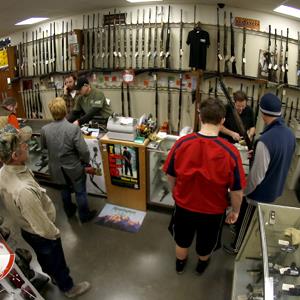 The U.S. Supreme Court won't hear a challenge to a New York gun-permitting law, providing a blow to gun-rights advocates and driving down shares of some gun makers. 

The high court declined to take up a review of New York's handgun law, which requires permit applicants to demonstrate special need for self-protection to receive approval for carrying a concealed handgun in public, according to Bloomberg. The century-old law had been upheld by an earlier federal court decision, which found it didn't infringe on the Second Amendment. 
Shares of gun makers fell on Monday, with Sturm Ruger (RGR) and Smith & Wesson (SWHC) declining more than 4% each in intra-day trading.
But that doesn't mean the Supreme Court won't consider gun-rights issues at some point. 
"It is only a matter of time before the justices hear a case about public possession of guns," Adam Winkler, a professor at the University of California's Los Angeles School of Law, told the publication. 
A review of the New York law could have had an impact on public-possession restrictions in as many as 10 states, the piece adds. 
The high court's rebuff comes as the U.S. Senate is debating gun-control legislation that would expand background checks to gun shows and online sales. Right now, only sales from licensed gun dealers require background checks.
The chances of the legislation succeeding are threatened by divisions within both the Democratic and Republican parties, reports The New York Times.
In the meantime, background checks have fallen off since December, when 2.78 million were initiated, according to the FBI. In March, that had declined to 2.2 million.

But given that some Americans fear the government will hamper their ability to buy firearms, perhaps it's not all that surprising that those numbers still represented a boost from early 2012, before the Newtown, Conn., massacre prompted new calls for gun-control measures. 

Actually the SCOTUS didn't rule on anything.  They returned the case to a lower court to rule first.  There is an extreme likelihood that the lower court  will strike it down.  If they uphold the law, then the SCOTUS will likely heard the case.
If the District and Appeals courts uphold the law it will fly in the faces of previous SCOTUS rulings.
But both those courts need to rule first.   Just like they needed to rule the case of Obamacare.
The court right now is extremely liberal.  Liberals will try to strike down rights they dislike and invent new ones not mentioned in the Constitution.   The democrats would eliminate the Constitution and replace it with a 'Das Kapital' blueprint for a utopian socialist society.   
Are you sure you want to delete this comment?
DATA PROVIDERS
Copyright © 2014 Microsoft. All rights reserved.
Fundamental company data and historical chart data provided by Morningstar Inc. Real-time index quotes and delayed quotes supplied by Morningstar Inc. Quotes delayed by up to 15 minutes, except where indicated otherwise. Fund summary, fund performance and dividend data provided by Morningstar Inc. Analyst recommendations provided by Zacks Investment Research. StockScouter data provided by Verus Analytics. IPO data provided by Hoover's Inc. Index membership data provided by Morningstar Inc.
MARKET UPDATE
[BRIEFING.COM] S&P futures vs fair value: -5.50. Nasdaq futures vs fair value: -13.00. Nasdaq at... NYSE Adv/Dec 0/0... Nasdaq Adv/Dec 0/0.
More Market News