Taco Bell gives fan a custom-made Speedo
The chain's response to an unusual swimwear request shows social media's strength in the fast-food industry.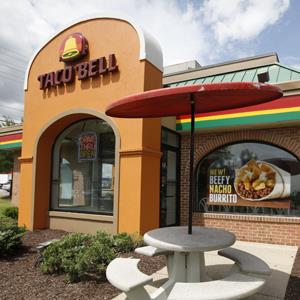 One of Taco Bell's most loyal customers recently asked the fast-food chain for a Speedo with the phrase "Think Outside The Buns" scrawled across the back. Would you grant that wish?
If you're a member of Taco Bell's social media team or its parent company Yum Brands' (YUM) marketing department, you'd do it post-haste. Ryan Klarner, a high school swimmer and diver from Palantine, Ill., got the response and the Taco Bell-branded Speedo he was looking for after posting the following appeal on Facebook (FB):

"Where do I go after a long days workout? Taco Bell of course, i eat at Taco Bell at least 5-7 times a week. So, what i am asking is this, is there any way you guys could make me a customized Speedo that says think outside the buns on the back of it?"
On Jan. 2, Taco Bell not only responded, but sealed its reputation as a fast-food social media powerhouse with these two questions on its own Facebook page: "What size do you wear? And what is your address?"
The Internet went nuts. The exchange found its way to Reddit, as these things tend to do, and then made its way onto Mashable when the Reddit chatter heated up. Combine that with the push it received from Taco Bell's 9.5 million Facebook followers and it became a huge coup for the multinational taco peddler.
This doesn't really happen by accident. Taco Bell has crafted its social media presence so well that, back in October, Blog World ran an infographic highlighting the chain's 85 Klout score. That's the highest in the fast-food industry and the result of a social media blitz that makes it one of the top five fast-food chains ranked by both Facebook and Twitter followers. Taco Bell was responsible for 18 of the 100 most-popular Facebook posts by fast-food companies in 2012, according to Forbes, mostly because it isn't afraid to get weird and personal with its followers.
Taco Bell succeeds because it plays the game like a chain a fraction of its size. Track Social ranks fast-food chains based on responses to their tweets and Facebook posts and placed Taco Bell fourth behind regional chain Whattaburger, fallen doughnut giant Krispy Kreme and ubiquitous Subway. For example, when the Los Angeles Times reported that the small town of Bethel, Alaska, (population 6,000) was duped into believing that it was getting a Taco Bell last year, Taco Bell harnessed the social media outrage and airlifted in 10,000 Doritos Locos tacos as a goodwill gesture. It also gamed Reddit into taking its MTN DEW A.M. breakfast soda offering to a wider audience, even if that audience only sipped its Mountain Dew-and-orange-juice​ mimosas ironically.
In recent years, getting onto social media pages and diving headlong into the masses has become a family tradition at Yum Brands. Its Pizza Hut outlets around the world float out their pizza-scented perfume and pizza-within-a-pizza​ promotional offerings and let the tide of public reaction pull the brand's name out to a sea of potential customers. Econsultancy writer Ben Davis observed similar behavior by Yum's KFC, whose joke-laden, retweeting, smarmy Twitter feed stands in stark comparison to McDonald's (MCD) tweetbot spouting product names ad nauseum and never tacking its voice too far from the company-mandated line. McDonald's tweets read like 140-word press releases. KFC's read like an actual human being having fun with his or her job.
Does any of it translate to sales? Meh. There's no empirical evidence to suggest it, but Yum Brands' earnings climbed last quarter while McDonald's saw its first monthly sales drop in a decade back in October and needed to put franchisees to work on Thanksgiving and Christmas to prevent a repeat in November and December.
It's not the most solid proof of social media's fast-food power, but it's also no excuse not to give a fan a Speedo regardless of how much of your company's product he or she is consuming around the time of the request.
More on Money Now

DATA PROVIDERS
Copyright © 2014 Microsoft. All rights reserved.
Fundamental company data and historical chart data provided by Morningstar Inc. Real-time index quotes and delayed quotes supplied by Morningstar Inc. Quotes delayed by up to 15 minutes, except where indicated otherwise. Fund summary, fund performance and dividend data provided by Morningstar Inc. Analyst recommendations provided by Zacks Investment Research. StockScouter data provided by Verus Analytics. IPO data provided by Hoover's Inc. Index membership data provided by Morningstar Inc.
MARKET UPDATE
[BRIEFING.COM] The stock market began the new trading week on the defensive note with small-cap stocks pacing the retreat. The Russell 2000 (-1.4%) and Nasdaq Composite (-1.1%) displayed relative weakness, while the S&P 500 lost 0.8% with all ten sectors ending in the red.

Global equities began showing some cracks overnight after China's Finance Minister Lou Jiwei poured cold water on hopes for new stimulus measures. Specifically, Mr. Lou said the government has no plans to change ... More
More Market News