Lawmakers to unveil gun trafficking bill
The proposal, which has some bipartisan support, would punish people who knowingly buy guns for criminals.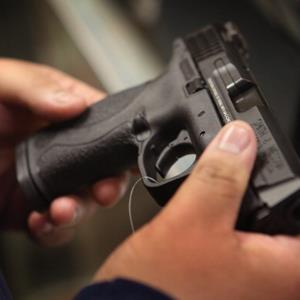 Washington's renewed focus on gun control is starting to turn into real proposals.
Two Republican and two Democratic lawmakers are planning to unveil a bill Tuesday to make gun trafficking a federal crime, The Washington Post
reports
. The bill is coming out of the House of Representatives, and is similar to one in the Senate.
The bill would punish people who knowingly buy guns for convicted felons and others who aren't allowed to buy weapons on their own. Right now, gun sellers get "little more than a legal slap on the wrist" for buying and reselling guns to this group, writes the Post's Greg Sargent.
The proposals in the House and Senate seek to close this loophole for "straw purchasers." But will they get enough Republican support to pass?
Meanwhile, Democrats in the Senate are moving forward with a broader bill that would likely clamp down on high-capacity magazines. It would also require background checks at gun trade shows and in other private transactions, The Wall Street Journal
reports
. One thing the bill will not do is ban military-style, semiautomatic weapons.
That bill would undoubtedly bring strong opposition from the National Rifle Association, which is not in favor of background checks for all gun purchases.
More on moneyNOW

Will they start by imprisoning the AG?   He used taxpayer 'stimulus' funds to buy guns, then broke Mexican laws and smuggled them over the border and then gave them to drug lords?
And of course Obama knew of this so he really is a co-conspirator.  Plus they both are still stonewalling what happened.   If I were the Mexican's I'd issue an arrest warrant for both of them...
These laws will not help one iota.  Criminals will ignore them.   If our own AG and President ignore them, why would criminals pay any heed?

Gun trafficking is already a FEDERAL CRIME! Our courts and prosecutors just hardly ever enforce the laws that are already on the books. Same thing with felons in possession of a firearm and use of a gun in commission of a felony. Mandatory minimum sentencing is commonly ignored by prosecutors. Prisons are just too full I guess.

What I like is that the second something happens, the Media and people start blaming the tool that was used and not the guy that did it, Guns alone don't kill people, they're just a tool that ya can use,  without someone behind the gun pulling that trigger that gun wouldn't hurt a single person. Blaming guns for death and violence is like blaming a Knife for a stabbing, people get killed by knifes all the time but nobody is trying to push a band on them and make them illegal to own or use or what about a car, or a rock? Anyone could use anything in this world to kill another person really and if the government bans high capacity magazines and assault weapons, it wont solve anything, its just taking it away from the normal american who wants to own one, Food for thought, Why would anyone want to own an AR15 with a hundred round magazine? its just like, Why would somebody want to own a 72' Flat Screen HDTV with a 5.1 Surround sound system? Why would somebody want to live drive a huge truck when they live in a big city or go to Mcdonalds everyday and eat a bunch of crap food and then go to the supermarket and buy a bunch of stuff they wont use? Because this is america, the land of excess, its part of all of us, its just your choice on what you want.  Understand what I'm trying to say?

Look gun control is simple, instead of banning certain things (cause when has something being banned or something being illegal to use or have stopped somebody, just look at drug control and all that other BS that goes with, Smack is still being pushed all across america), just make it harder to get, Mental health Checks every so often, Annually or Bi Annually. Universal back ground checks. Make it so certain guns like assault weapons, you need to have prior training in, like military or police experience. Make sure they are not buying for someone with mental issue or a violent criminal back ground.

Here's a great idea.  How about if everyone that doesn't want people to own guns and thinks that laws will stop criminals post their addresses. That way those who believe gun control will not stop criminals or murderers can sleep peacefully knowing where the criminals will be kicking in doors.  They will have a list of safe places to rob, rape, and murder without fear of being shot as they break in the door.

Great idea--why should felons or minors be able to buy guns?  Interstate trafficking in guns should be stopped with universal background checks, photo id etc.
However, this is really the tip of the iceberg:  assault weapons and large ammo magazines should be banned and universal background checks on all purchasers.
Then there should be a significant federal tax placed on every weapon sold and on every bullet sold in the U.S.  Say $5,000 tax per weapon, and $10/bullet tax.  Then use the funds from this tax to buy back any weapon for say $5,000, no questions asked.
It is a simple question of supply and demand for guns:  if they become very expensive then few people will own or have them.  Then, our death rate from homicides and accidental gun deaths and even suicides will drop sharply.  This is what Australia experienced in 1990s.
As fas as gun rights under the Constitution, the Supreme Court has said banning assault weapons and taxing guns is legal. 
As far a I am concerned, only a person in uniform in our police, national guard and U.S. military has a right to a weapon, and only if that person is "regulated" by being trained, supervised and held accountable as our police and Army and Marines are.
Are you sure you want to delete this comment?
DATA PROVIDERS
Copyright © 2014 Microsoft. All rights reserved.
Fundamental company data and historical chart data provided by Morningstar Inc. Real-time index quotes and delayed quotes supplied by Morningstar Inc. Quotes delayed by up to 15 minutes, except where indicated otherwise. Fund summary, fund performance and dividend data provided by Morningstar Inc. Analyst recommendations provided by Zacks Investment Research. StockScouter data provided by Verus Analytics. IPO data provided by Hoover's Inc. Index membership data provided by Morningstar Inc.
MARKET UPDATE
[BRIEFING.COM] Precious metals are trading lower this morning. Dec gold brushed a session low of $1212.50 in recent action and is now down 0.2% at $1214.60. Dec silver traded as low as $12.57 but has been inching higher in recent trade. It is currently at $17.71, or 0.8% lower.

Nov crude oil pulled back from its session high of $91.82 set at pit trade open and is slipping deeper into negative territory. It touched a LoD of $90.77 and is currently down 0.9% at $90.86.

Oct natural ... More
More Market News