Criminals better fess up -- on their tax returns
Even if your gains are ill-gotten, the IRS wants its cut. And paying those taxes could eliminate at least one imprisonable offense.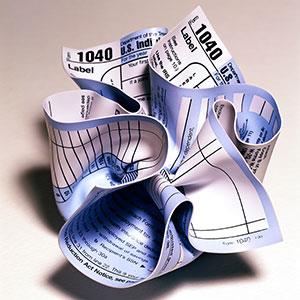 If you have the time and energy to thumb through the tax code, you'll find some real gems. One of the best, though, goes like this:
Income from illegal activities, such as money from dealing illegal drugs, must be included in your income on Form 1040, line 21, or on Schedule C or Schedule C-EZ (Form 1040), if it's from your self-employment activity.
That's right: Drug dealing, embezzlement and any number of other duplicitous and illegal activities aren't only "self-employment," but are taxable.
CNNMoney
broke it down on Friday and found that while criminals typically don't give the Internal Revenue Service a cut of the take, more are reporting their ill-gotten gains just to avoid facing two sets of charges. As Al Capone proved, even if you get off scot-free on criminal charges, you can still be put away for tax evasion.
Declaring that income tends to come in handy when you're, say, an accountant who makes a habit of stealing from clients. Tom Hughes, a New England accountant who has been caught dipping into his clients' earnings on several occasions and is now head of head of his own anti-fraud consultancy firm Hire-a-thief, touts the merits of including that income in tax returns. Hughes stole from clients in 1999, 2001 and 2004 and served nine months in prison for it, but he declared the stolen money as income every time to avoid federal tax charges.
Proving the amount of the illegal income you're declaring is a little tougher. The IRS doesn't require any documentation, but an audit will track down your accomplices and victims to have them confirm the amount. Assuming you're not convicted of a crime and aren't tracked down by people you stole from or partners you shortchanged, you're then in the clear, right?
Not really. The IRS legally can't tip off law enforcement to your activities unless an agency gets a court order to look at your return. However, it can pass off "supplemental information" like witness interviews from audits to law enforcement agencies just to keep them posted.

This isn't the confession booth, your doctor's office or a phone call with your attorney, and the IRS is under no obligation to refrain from using that loophole to blab about your misdeeds. Neither are your tax preparers, for that matter. So, either do the math yourself, or pay through the nose for a tax attorney.
"We don't have attorney-client privilege," Gil Charney, principal tax researcher at H&R Block's (HRB) Tax Institute, told CNNMoney. "If the IRS or any law enforcement agency contacts us, we have to provide that information."

Reporting illegal income is especially prudent for gamblers.  If you're just placing bets and not taking them, you'll probably never be prosecuted on gambling charges.  But they will come after you on tax evasion if you win enough and don't report it.  Of course this only applies if they find out.

If you are contacted by the IRS once, cooperate and give them the documentation they request.  If they contact you more than once, or come to your home or place of business, it's probably time to lawyer up.  A good tax attorney is usually worth every penny.


Are you sure you want to delete this comment?
DATA PROVIDERS
Copyright © 2014 Microsoft. All rights reserved.
Fundamental company data and historical chart data provided by Morningstar Inc. Real-time index quotes and delayed quotes supplied by Morningstar Inc. Quotes delayed by up to 15 minutes, except where indicated otherwise. Fund summary, fund performance and dividend data provided by Morningstar Inc. Analyst recommendations provided by Zacks Investment Research. StockScouter data provided by Verus Analytics. IPO data provided by Hoover's Inc. Index membership data provided by Morningstar Inc.
MARKET UPDATE
[BRIEFING.COM] The stock market finished the Tuesday session on the defensive after spending the entire day in a steady retreat. The S&P 500 (-0.6%) posted its third consecutive decline, while the small-cap Russell 2000 (-0.9%) slipped behind the broader market during afternoon action.

Equity indices were pressured from the start following some overnight developments that weighed on sentiment. The market tried to overcome the early weakness, but could not stage a sustained rebound, ... More
More Market News