Del Taco stuffing new burrito for stoner market?
Without saying so explicitly, the fast-food restaurant seems to be targeting its latest belly bomb toward satisfying marijuana-induced late-night cravings.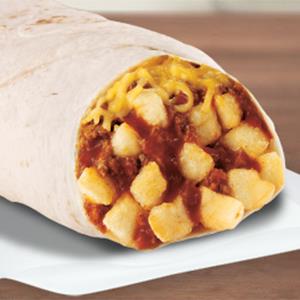 There's a demographic fast-food companies don't like to talk about -- but have been increasingly catering to with each bigger, more overstuffed culinary concoction.
You know them as stoners, and Del Taco has just the offering to attract more of their munchie dollars with its burrito stuffed with chili cheese fries, aptly named Chili Cheese Fry Burrito.
Both Del Taco and its competitors at Yum Brands' (YUM) Taco Bell will outright deny that they're courting a consumer base whose hunger is fueled by marijuana-induced cravings. But with Del Taco stuffing french fries into burritos and Taco Bell running ads implying that Nacho Cheese and Cool Ranch Doritos Locos Tacos are shameful indulgences that should be hidden from friends and loved ones -- but are available as a late-night "fourthmeal" -- it doesn't exactly show they're averse to feeding voracious night owls whose favorite meals are wrapped in other meals.
Del Taco's Chili Cheese Fry Burrito, for example, takes crinkle-cut fries Del Taco was cooking up anyway, blends them into beef chili and cheddar cheese and wraps them all in a flour tortilla. It's the crowning achievement of a complete chain makeover for Del Taco that includes an updated logo, a "Buck & Under" menu, a new "UnFreshing Believable" slogan and a "New Tastes" menu featuring a Bacon Ranch Grilled Chicken Taco and a Fiery 6 Layer Burrito.
While Burger King (BKW) has slimmed down its menu offerings and McDonald's (MCD) is toying around with no-yolk Egg McMuffins, those fast-food chains recently have been unwilling to embrace their greasy underbelly and play to their fry-cooked strengths. But Taco Bell's Doritos-wrapped gambit for the college/last call/stoner demographics isn't only boosting sales but also saving the brand.
Long loyal to lower-tier fast-food chains like White Castle, Krystal and Checkers, the late-night grease gobbler is getting a lot more mainstream attention these days. Yum Brands' Pizza Hut tickled their taste buds by attaching bread bowls filled with cheese to its Crazy Cheesy Crust. Carl's Jr. (CKE) and Denny's (DENN) haven't been above offering a foot-long cheeseburger or a grilled-cheese sandwich stuffed with mozzarella sticks, respectively, to any diners who dared to order them.
Yet Del Taco is the only company that has even remotely indicated who its target customer is. With Del Taco locations in both Colorado and Washington state, which both voted to legalize recreational marijuana use, could it be just a coincidence that the Chili Cheese Fry Burrito's calories count is exactly 420?
DATA PROVIDERS
Copyright © 2014 Microsoft. All rights reserved.
Fundamental company data and historical chart data provided by Morningstar Inc. Real-time index quotes and delayed quotes supplied by Morningstar Inc. Quotes delayed by up to 15 minutes, except where indicated otherwise. Fund summary, fund performance and dividend data provided by Morningstar Inc. Analyst recommendations provided by Zacks Investment Research. StockScouter data provided by Verus Analytics. IPO data provided by Hoover's Inc. Index membership data provided by Morningstar Inc.
MARKET UPDATE
[BRIEFING.COM] Nov crude oil is trading higher this morning as the U.S. and Arab allies have begun missile strikes in Syria on the Islamic State. The energy component dipped to a session low of $90.77 moments after equity markets opened but quickly recovered back into positive territory. It popped to a session high of $91.90 in recent action and is now up 0.9% at $91.64.

Oct natural gas is chopping around in a tight range between $3.88 and $3.90 in the black. It is currently up 1.2% at ... More
More Market News