Abandoned no more: Schools become housing
Communities are looking at old and empty schools with an eye toward new homes and revenue.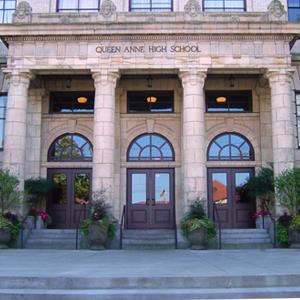 It's becoming a common sight in many U.S. towns and cities: Old, sturdy and sometimes quite beautiful former public school buildings are being converted into housing.

Prices for the new homes can run the economic spectrum, from publicly funded low-income apartments to top-dollar condominiums.
While we Americans are often criticized for our throwaway culture, we've also employed some interesting creative and financial ideas to give former schools a new purpose and identity in their neighborhoods.

The U.S. Department of Education says that while 1,826 new schools were opened nationwide in the 2009-10 school year, 1,822 were closed as community demographics and finances changed.
But rather than stand empty for years or get torn down, shuttered schools are coming back to life as many communities consider alternatives.

The federal government began providing tax incentives for historic preservation projects in 1976. And among those projects, the conversion of defunct public schools into housing has grown in popularity.
"Unused public school buildings can be a great resource for increasing a community's affordable housing supply," the Department of Housing and Urban Development says on its website. "When the buildings have cultural or historic significance, their redevelopment can also help revitalize and strengthen the community."
HUD notes that the renovation projects often bring real-estate developers, community members and local governments together in ways that can bring long-term economic benefits to a district.
The former Kellogg Elementary school in Wichita, Kan., has been converted into stylish rental apartments for $1.6 million. The developers say they originally considered getting the government tax reductions for restoring a historic building but ruled that out, saying it would have slowed the project's completion.
The Wichita Business Journal says the apartments -- which run in price from $800 to $1,500 a month -- include upgraded amenities like granite countertops. But the developers also took advantage of the building's existing and highly coveted architectural features, like hardwood floors, large windows and high ceilings. They also incorporated bits and pieces from the school's history into some apartments, such as leaving old chalk boards and bathroom tiles in place.
Creative funding can also come into play with some school conversions.
Provo, Utah, saved its landmark Maeser School from destruction and helped to revitalize a neighborhood. Built in 1898, it was the oldest operating public school in Utah when it closed in 2002.

The local school district tried to sell the property but had no success. "They were on the verge of tearing the school down -- two weeks away from the wrecking ball -- when we agreed to purchase the building and the entire city block at their asking price," Douglas Carlson, with the Provo City Housing Authority, told Affordable Housing Finance at the time.

Carson said the city was challenged by the extensive renovation work needed to convert the school into 31 units of affordable housing for low-income seniors.
To stay on budget, the Provo Housing Authority got financing from 14 funding sources and raised $5.2 million, including from HUD grants, low-income housing tax credits and state historic tax credits.
The Maeser School Apartments, completed in 2006, are considered a prime example of what a successful school conversion can do for a community's housing needs while preserving local history and reviving local neighborhoods.

More on moneyNOW
DATA PROVIDERS
Copyright © 2014 Microsoft. All rights reserved.
Fundamental company data and historical chart data provided by Morningstar Inc. Real-time index quotes and delayed quotes supplied by Morningstar Inc. Quotes delayed by up to 15 minutes, except where indicated otherwise. Fund summary, fund performance and dividend data provided by Morningstar Inc. Analyst recommendations provided by Zacks Investment Research. StockScouter data provided by Verus Analytics. IPO data provided by Hoover's Inc. Index membership data provided by Morningstar Inc.
MARKET UPDATE
[BRIEFING.COM] Equity indices remain near their flat lines as heavily-weighted sectors continue trading in mixed fashion.

At this juncture, the industrial sector (-0.6%) is the weakest performer among cyclical groups with defense contractors pressuring the space. The PHLX Defense Index is lower by 1.1% with just about every component trading lower. Including today's decline, the Defense Index is now down 2.4% for the week and off 0.7% so far in September. On the upside, General ... More
More Market News