EBay halts bids for spot in heaven
A New Jersey man posted the auction as a joke, but nearly 200 people ran the price to almost $100,000.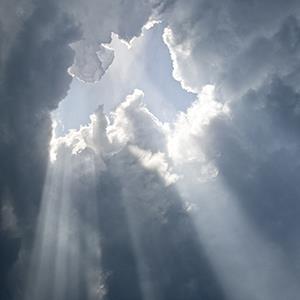 A place in heaven, even offered in jest, has tremendous market value.
In the Middle Ages, the German preacher Johann Tetzel sold plenary indulgences that promised to spare souls the fires of hell or a long wait in purgatory in exchange for an immodest sum. The sales pitch often attributed to him -- "As soon as a coin in the coffer rings / the soul from purgatory springs" -- not only kept the money coming in but eventually drew the ire of Martin Luther and kicked off the Protestant Reformation.
New Jersey man and self-proclaimed atheist Ari Mendel put his spot in heaven on eBay (EBAY) as a joke, but even that mocking indulgence drew more than 180 bids and a $99,900 price. Last week, according to NBC News, Mendel's post was removed from eBay after the auction site declared it violated its policy forbidding "listings that aren't offering anything for sale or those that have intangible items (generally things don't physically exist)."
EBay isn't disavowing heaven's existence. It's just saying that if a seller can't touch it, the site can't sell it. As The Huffington Post points out, eBay called off similar sales involving a jar of flatulence and another containing a ghost on similar grounds.
Mandel told NBC News that the whole thing was just a joke that people were willing to pay nearly six figures for. The 31-year-old Army veteran and New York University student received hundreds of phone calls, emails and Facebook messages while the item was online and, according to Opposing Views, had to guarantee his spot in heaven by making note of his good deeds, his vegan lifestyle and his adherence to Jewish law during his 23 years in the Hasidic community.
He also offered up a contract promising that he would continue to live a life without sin and not return to religion and steal the spot for himself.
Even at close to $100,000, Mandel's spot in heaven likely didn't meet its complete earning potential. The National Bureau of Economic Research says auctions make up only 15% of eBay's business these days, down from nearly 100% 10 years ago. Even as a joke, a spot in heaven is clearly a Buy It Now proposition.
DATA PROVIDERS
Copyright © 2014 Microsoft. All rights reserved.
Fundamental company data and historical chart data provided by Morningstar Inc. Real-time index quotes and delayed quotes supplied by Morningstar Inc. Quotes delayed by up to 15 minutes, except where indicated otherwise. Fund summary, fund performance and dividend data provided by Morningstar Inc. Analyst recommendations provided by Zacks Investment Research. StockScouter data provided by Verus Analytics. IPO data provided by Hoover's Inc. Index membership data provided by Morningstar Inc.
MARKET UPDATE
[BRIEFING.COM] S&P futures vs fair value: -8.00. Nasdaq futures vs fair value: -19.00. Nasdaq at... NYSE Adv/Dec 0/0... Nasdaq Adv/Dec 0/0.
More Market News