McDonald's dumps Chicken Selects from menu
The company is also booting the apple walnut salad. Is there anything good left to eat?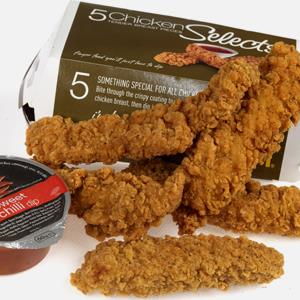 McDonald's
(
MCD
) is cutting Chicken Selects and apple walnut salad from its menu. Does that leave anything for health-conscious diners looking for a quick meal?
Judging from the outcry on Twitter, the answer seems to be no.
"McDonald's discontinued Chicken Selects. . . My life is officially over," wrote one dismayed customer on the social-media site. "I guess I'll never be eating McDonald's ever again just (because) they are no longer making Chicken Selects," another customer wrote.
The company
touts
its Chicken Selects as "premium finger food for picky people." They were made from chicken breast filets and ran about 380 calories for a three-piece serving.
But apparently, picky people were just a little too picky. One McDonald's franchisee said that the Chicken Selects didn't sell well enough nationally, The Chicago Tribune
reports
. A spokeswoman confirmed to the newspaper that Chicken Selects and apple walnut salad will be cut, and that the company is reviewing options for its Angus Third Pounder.
The Tribune speculates that the move is clearing the way for new products, perhaps a McWrap sandwich with grilled or fried chicken. McDonald's has also been testing chicken wings at some restaurants.
Which returns us to a question asked all the time by calorie-counting parents rushing their kids' Happy Meal orders through the McDonald's drive-thru: Is there anything on this menu for me to eat?
MARKET UPDATE
[BRIEFING.COM] The S&P 500 settled lower by 0.8% after early strength turned into afternoon weakness.

Today's headline event came in the form of Ben Bernanke's testimony before the Joint Economic Committee. During his remarks, Chairman Bernanke said premature tightening of monetary policy could stall the pace of recovery. This followed weeks of conflicting remarks from FOMC members, which sparked speculation regarding possible changes to the Fed's policy course.

However, ... More
More Market News