US Mint wants to make cheaper coins
It costs 2 cents to make a penny and 11 cents to make a nickel. As the cost of metals continues to rise, the agency is trying to contain expenses.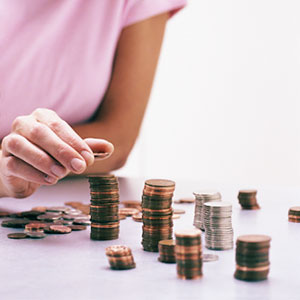 Could you live without change -- pocket change, that is? A number of countries are cutting back on their coins, especially the low-denomination currencies.
Soon, the Canadian penny will be permanently taken out of circulation. "Some Canadians consider the penny more of a nuisance than a useful coin,"  said a government report from Ottawa earlier this year. "Over time, the penny's burden to the economy has grown relative to its value as a means of payment."

Is there a similar future in store, therefore, for America's pennies, nickels, dimes and quarters? One major issue: The metal and production costs of U.S. coins are often higher than the coin's actual face value.  
According to a new, two-year study by the U.S. Mint, it now costs two cents to make and distribute a Lincoln penny -- and over 11 cents for a nickel. And the Mint is on a quest to make its coins much more cost-efficient.
Part of that cost-cutting has come through better production methods. "We've gone to two-shift operations of our plants, lean manufacturing resources, to try to look for cheaper, more efficient ways to do business," says Tom Jurkowsky, the U.S. Mint's Director of Public Affairs.
But the bigger problem right now is the rising cost of metals. Pennies made between 1909 and 1982 were 95% copper. But as a much sought-after international commodity, the price of copper has soared over the past two decades. A U.S. penny now has a 2.5% copper coating -- with the rest of the coin made from zinc.  
The Mint has committed a lot of resources to finding the right combination of alternative metals for its coins. It's been working with an research and development consultant, set up a research laboratory at the Philadelphia Mint and is testing scores of metals and dozens of different alloys.
Jurkowsky says that only zinc, iron (used to make steel) and aluminum are the the most cost-efficient, non-toxic and plentiful metals around for any new coinage.
But there's another issue for all U.S. coins, except the penny.
Many modern vending machines sort coins -- including rejecting counterfeits and non-U.S. currency -- by using scanners that detect a coin's size and weight. Those scanners also use electromagnets to evaluate the coin's metallic composition. So there's concern that any new coins using new metal alloys would be costly for a wide swath of U.S. businesses.
In fact, the vending machine industry estimates a one-time, all-encompassing upgrade of its machines to accept coins of the same size and weight as the current ones, but with a different electromagnetic "signature," would cost between $700 million and $3.5 billion.
With those costs in mind, the Mint conducted "significant outreach" with companies that need coins to drive their day-to-day business -- including the vending machine industry, the makers of commercial coin-processing equipment, the public transportation sector, laundromats and car washes.
"It's important to understand we're attempting to emulate current coin characteristics," says Jurkowsky. "The electromagnetic signature is the most difficult characteristic to duplicate. When we reached out to the coin dependent companies, we're not just going at this willy-nilly, we're aware of the societal impact."
The U.S. Mint begins the second part of its testing early next year -- seeing if they can produce coins that are not only cost efficient but also have the same weight, durability and look as the pocket change we're all familiar with.
As for the humble penny, Jurkowsky says it's not going away -- at least, not yet. And while it will probably always cost more than a penny's worth to make a penny, he says there's still  great demand for them from the Federal Reserve -- which distributes them to the public via financial institutions. In fact, of the estimated 10.5 billion U.S. coins produced last year, more than 60% were pennies.
More from Top Stocks
DATA PROVIDERS
Copyright © 2014 Microsoft. All rights reserved.
Fundamental company data and historical chart data provided by Morningstar Inc. Real-time index quotes and delayed quotes supplied by Morningstar Inc. Quotes delayed by up to 15 minutes, except where indicated otherwise. Fund summary, fund performance and dividend data provided by Morningstar Inc. Analyst recommendations provided by Zacks Investment Research. StockScouter data provided by Verus Analytics. IPO data provided by Hoover's Inc. Index membership data provided by Morningstar Inc.
MARKET UPDATE
[BRIEFING.COM] S&P futures vs fair value: -6.30. Nasdaq futures vs fair value: -14.80. U.S. equity futures trade hover near their pre-market lows amid cautious action overseas. The S&P 500 futures hover six points below fair value, which puts the benchmark index on track to continue its retreat after losing 0.8% yesterday.

Overnight, markets in Asia traded in mixed fashion, but sentiment worsened after the start of the European session, where all the key indices hold losses ... More
More Market News