Fiscal cliff could crush minimum-wage hikes
10 states are set to boost income for lowest-paid workers, but the loss of a key payroll tax break will wipe out those gains.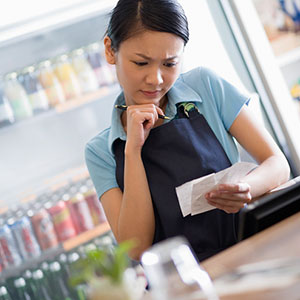 Workers in 10 states who made the minimum wage this year will get a raise in 2013, provided the fiscal cliff lets them keep it.
In Arizona, Colorado, Florida, Missouri, Montana, Ohio, Oregon, Rhode Island Vermont and Washington, the minimum wage is rising between 10 and 35 cents an hour, which translates into an extra $190 to $510 per year on average, according to the National Employment Law Project.

Even after those changes, the group told CNN that only 19 states will have a minimum wage higher than the federal minimum of $7.25 an hour. The new rates are largely thanks to annual cost-of-living increases that lift hourly wages to $7.35 in Missouri and as much as $9.19 in Washington state, which has the country's highest minimum wage.

But those scant gains could be wiped out if the country goes over the fiscal cliff, which eliminates key tax breaks and cuts program spending in the new year. The payroll tax cut put into place in 2010 would be among the casualties and would boost that tax from 4.2% to 6.2%.
Since 2009, the federal minimum wage has equaled about $15,000 a year. That's roughly $8,000 below the poverty line for a family of four and doesn't rise with the cost of living, as is the case in certain states.
In Rhode Island, for example, it took the implementation of a new state law in June to raise the minimum wage 35 cents to $7.75 an hour. That's a $510-a-year boost and the biggest minimum wage increase in the country, but still isn't much of a push for low-income workers. The NELP issued a report in August that found the majority of jobs created during the economic recovery following the recession fell into the low-wage category of less than $14 an hour.
As a result, the lower tiers of American wage earners continue to lose ground. Within the last year, Census Bureau numbers showed no significant change in the income of America's poorest workers. The top 1% saw their income grow by 6% in 2011, while the highest 20% gained 1.6%. The middle 60%, meanwhile, saw their income fall between 1.6% and 1.9%. The NELP insists that economic disparity will be even more pronounced in states that don't increase the minimum wage.
"If you don't do this, the lowest wage earners are going backwards," Jen Kern, NELP's minimum wage campaign coordinator, told CNN.
So why did only 10 states raise the minimum wage for 2013? Basically because the other side of the argument thinks it's bad for business. Forbes contributor William Dunkelberg, like countless others who've railed against the federal minimum wage since it was implemented in the late 1930s, insists it's a job killer that unnecessarily raises costs on business owners.
This is but one of the poorly designed policies that are created by politicians who have little or no understanding of how business works. They promise higher legislated wages or other benefits to constituents who don't understand the true economic impact in order to gain votes.
If it's any consolation to Dunkleberg, continued inaction by those ignorant Congressmen will make sure most of those poor, clueless workers receiving minimum wage hikes will never see an extra dime.

More on Money Now

DATA PROVIDERS
Copyright © 2014 Microsoft. All rights reserved.
Fundamental company data and historical chart data provided by Morningstar Inc. Real-time index quotes and delayed quotes supplied by Morningstar Inc. Quotes delayed by up to 15 minutes, except where indicated otherwise. Fund summary, fund performance and dividend data provided by Morningstar Inc. Analyst recommendations provided by Zacks Investment Research. StockScouter data provided by Verus Analytics. IPO data provided by Hoover's Inc. Index membership data provided by Morningstar Inc.
MARKET UPDATE
[BRIEFING.COM] The stock market finished an upbeat week on a mixed note. The S&P 500 shed less than a point, ending the week higher by 1.3%, while the Dow Jones Industrial Average (+0.1%) cemented a 1.7% advance for the week. High-beta names underperformed, which weighed on the Nasdaq Composite (-0.3%) and the Russell 2000 (-1.3%).

Equity indices displayed strength in the early going with the S&P 500 tagging the 2,019 level during the opening 30 minutes of the action. However, ... More
More Market News