Gluten-free food business is making a lot of bread
It's already a $4 billion market, thanks to a variety of health concerns, and food makers of all sizes are jumping in.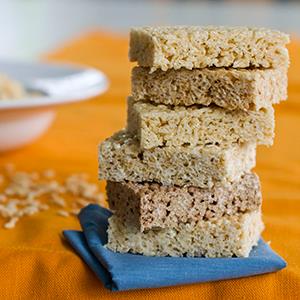 By now you've likely noticed the ever-widening variety of gluten-free products in local supermarkets as food makers race to meet demand for these specialized offerings. And that craving is expected to keep rising in coming years, spurred by consumers who believe they can't tolerate gluten -- a protein found in products processed with grains -- and by parents who say it has a harmful effect on children with autism.
A recent survey released by NPD Group found that 29% of U.S. adults say they want to either cut back or eliminate gluten from their diets, an increase from 24% in 2009. However, NPD senior analyst Harry Balzer tells MSN Money he expects interest in the category to fade, though he isn't sure when.
"This is the health issue of the day," he said, adding that his research doesn't delve into why people want to buy gluten-free goods.
Sales reached $4.2 billion last year after experiencing a 28% compound annual growth rate in the proceeding four years, according to market researcher
Packaged Facts
. The market for these products is forecast to top $6.6 billion in 2017.
Many companies are certainly taking notice.
Mondelez International
(
MDLZ
), formerly Kraft Foods;
General Mills
(
GIS
); and
Kellogg
(
K
) are among the food giants offering gluten-free products, such as a version of Kellogg's Rice Krispies that can be used to make gluten-free treats (pictured).
Many smaller companies sell similar products, and experts say the market for gluten-free foods and beverages has grown faster than expected. Restaurants are cashing in as well, adding gluten-free dishes to their menus, as
Nation's Restaurant News
noted.
Domino's Pizza
(
DPZ
) began offering gluten-free crusts last year.
According to an op-ed published in
The New York Times
, scientists are mystified by the prevalence of celiac disease, an autoimmune disorder tied to gluten that has quadrupled in the U.S. in the past 50 years. Nonetheless, it's still rare, affecting at most 1% of the world's population. 
As for autism, some parents believe eliminating gluten along with casein, which occurs in dairy products, helps children with the disorder.
WebMD
, however, notes that the effectiveness of such a diet "has not been supported by medical research."  
Anyone considering going gluten-free is advised to check with a health care professional, because gluten-free products are often made with refined grains and are low in nutrients, according to
Scientific American
.
Jonathan Berr does not own shares of the listed stocks. Follow him on Twitter @jdberr.

The food industrial complex wants to confuse customers about what to eat so they can market you "health foods". Odds are if what you are eating has not been processed it is probably fine. Food corporations make a lot of money selling you the cheapest possible food dressed up with lots of fat, sugar,and salt to make it taste good. When buying food try to get stuff that has a minimal amount of ingredients and try to stay away from food with chemicals you cannot pronounce. Maybe if we subsidies any fruit or vegetable besides Wheat, Corn, and Soy we would all be healthier. Crap food is fine too as long as it is in small amounts

Most people who eat Gluten free have an illness.  Companies are profiting off of people who can't eat wheat / barley or rye products.  This is NOT a diet fad for MILLIONS OF PEOPLE!!  It is a matter of life or death.   How would you like to get intestinal cancer for not correcting your diet as a Celiac?  Doesn't sound like much fun to me.   Do some research. 
Want to loose weight? ELIMINATE foods containing gluten from your diet rather than replace them with similar foods made from alternate grains. In most instances, this will leave only healthy foods on ones plate, and eliminate the foods that contribute to pounds and inches. What is eaten will be much more satisfying and higher in nutrients, reducing both hunger and portion sizes.


Celiac disease, also known as gluten intolerance, is a genetic disorder that affects at least 1 in 133  Americans. Symptoms of celiac disease can range from the classic features, such as diarrhea, weight loss, and malnutrition, to latent  symptoms such as isolated nutrient deficiencies but no gastrointestinal symptoms. The disease mostly affects people of European (especially Northern European) descent, but recent studies show that it also affects Hispanic, Black and Asian populations as well. Those affected suffer damage to the villi (shortening and villous flattening) in the lamina propria and crypt regions of their intestines when they eat specific food-grain antigens (toxic amino acid sequences) that are found in wheat, rye, and barley. Oats  have traditionally been considered to be toxic to celiacs, but recent scientific studies have shown otherwise. This research is ongoing, however, and it may be too early to draw solid conclusions.
Are you sure you want to delete this comment?
DATA PROVIDERS
Copyright © 2014 Microsoft. All rights reserved.
Fundamental company data and historical chart data provided by Morningstar Inc. Real-time index quotes and delayed quotes supplied by Morningstar Inc. Quotes delayed by up to 15 minutes, except where indicated otherwise. Fund summary, fund performance and dividend data provided by Morningstar Inc. Analyst recommendations provided by Zacks Investment Research. StockScouter data provided by Verus Analytics. IPO data provided by Hoover's Inc. Index membership data provided by Morningstar Inc.
MARKET UPDATE
[BRIEFING.COM] The stock market began the new trading week on the defensive note with small-cap stocks pacing the retreat. The Russell 2000 (-1.4%) and Nasdaq Composite (-1.1%) displayed relative weakness, while the S&P 500 lost 0.8% with all ten sectors ending in the red.

Global equities began showing some cracks overnight after China's Finance Minister Lou Jiwei poured cold water on hopes for new stimulus measures. Specifically, Mr. Lou said the government has no plans to change ... More
More Market News