Would you pay your waiter's medical bill?
A new survey shows that people seem to be OK with paying more at a restaurant so employees can get health insurance.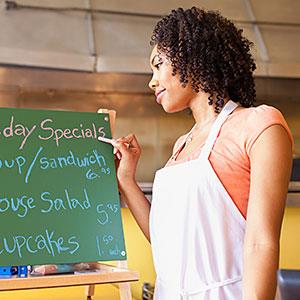 It's becoming quite clear that restaurant owners want nothing to do with the extra costs that come with Obamacare. So would customers be willing to cover employees' health costs?
Many of them say yes. According to a survey released Tuesday by Public Policy Polling, about 54% of voters say they would pay more at a restaurant so that employees could have health insurance. Some 30% of voters said they would not pay more.
More Democrats were willing to pay than Republicans. About 72% of Democrats said they would pay more, while 19% said they would not. Among Republicans, 41% said they would pay more and 38% said they would not.
As it turns out, Democrats and Republicans have pretty different opinions when it comes to food in general. Here's what they said:
Breakfast.
Democrats like bagels and croissants, while Republicans prefer doughnuts.
Fast-food chicken.
Democrats like KFC and Republicans like Chick-fil-A.
Vegans
. Democrats are fine with vegans, while Republicans have a more negative impression of them.
Olive Garden as "a quality source of authentic ethnic food."
Both parties are fairly split on this one, but more Republicans agreed with this while more Democrats did not.
Coke vs. beer.
The majority in both parties said Coke was better.
Fast food.
Here, both parties are exactly the same. Democrats and Republicans both have a 41% positive opinion of fast food versus a 49% negative impression.

Soda.
Democrats prefer regular soda and Republicans like diet.
OK, this poll is rather silly, but you can
see the full results here
.
About moneyNOW
MoneyNOW brings users smart, original and entertaining takes on the latest business and investing topics that are buzzing on the Web.
RECENT POSTS
Sears spirals toward oblivion
CEO Eddie Lampert can't apologize his way to growth any longer. His gasping retailer is now racing J.C. Penney to irrelevance.
MARKET UPDATE
[BRIEFING.COM] Quiet action continues with the S&P 500 once again probing fresh intraday highs. Nine sectors saw corresponding upticks as the benchmark average neared its current levels. The only exception was the utilities sector, which remains near its lows.

The utilities sector has been the subject of some selling in recent weeks. The high-yielding space is down 3.6% this week, and lower by 6.7% so far this month. Nasdaq -12.23 at 3447.19... NYSE Adv/Dec 824/2056... Nasdaq ... More
More Market News