Beer money: One state's economy is 6.3% ABV
Bud, Coors and Miller bring huge returns to Missouri, Colorado and Wisconsin, but small brewers also fuel economic growth in some states.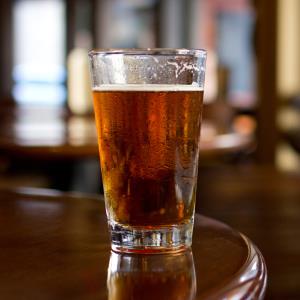 Beer is
a $250 billion industry
in the U.S., but in certain states it's a foamy pillar of the economy.
Washington, D.C.-based lobbying group The Beer Institute explained last month that beer pumped $246.6 billion into the U.S. economy last year through 2,800 breweries, 3,700 distributors and 576,000 bars and stores.

That put $49.1 billion in tax dollars into the nation's accounts and gave the U.S. 1.1 million jobs paying out $31.8 billion in wages and benefits each year, though that figure generously lumps in convenience store, restaurant and stadium workers with brewery and distributor employees.
That's what it takes to slake a national thirst for beer that sucked up 6.4 billion gallons of the stuff in 2011 -- about the same amount of milk consumed in the U.S. that year. Seeing that much demand rippling its way through every corner of the country, the folks at 24/7 Wall Street decided to take a look at the state-by-state beer numbers and compare them to state gross domestic product (GDP) figures from the Bureau of Economic Analysis.

Let's just say that if you're living near the U.S. headquarters of Anheuser-Busch InBev (BUD), MolsonCoors (TAP) or SAB Miller, your state is basically one giant beer company town.
Few economies are as soaked in hops, grain, yeast and water as Colorado's. While home to MolsonCoors in Golden, it's also one of the most popular states for small brewers in the country. New Belgium in Fort Collins and Oskar Blues in Lyons are among the dozens of brewers that call Colorado home. But they've expanded their operations so greatly that each has invested in facilities in Asheville, N.C., to increase their presence on the East Coast. All told, beer accounts for nearly $15 billion in economic output, more than 58,000 jobs in the state and about 6.3% of Colorado's GDP.
Missouri is no slouch, either, having staked its state pride to Anheuser-Busch until a merger with Belgian firm InBev in 2008 made it a multinational. Still, with breweries like Kansas City-based Boulevard and St. Louis' own Schlafly, Urban Chestnut and Six Row all flourishing in A-B's shadow, beer remains a huge part of Missouri's economy at $13 billion overall and 6.1% of GDP. The 64,000 in-state jobs beer provides aren't too shabby either.
That leaves Wisconsin among the remaining beer hubs. It's home to Miller facilities in Milwaukee, MillerCoors-owned Jacob Leinenkugel in Chippewa Falls and flourishing small brewers. Among those are Milwaukee's Lakefront, Middleton's Capital Brewery and New Glarus-based New Glarus -- whose owner Deborah Carey had an audience with President Barack Obama during a small-business meeting at the White House in November.

Clearly, Wisconsin's heritage is as steeped in brewing as its economy. Beer accounts for $8.7 billion in overall business and 3.9% of its GDP, as well as nearly 61,000 jobs throughout the state.
However, you don't need a giant brewer parked within state lines to be a big beer economy. Vermont's biggest brewer is Magic Hat, which is part of the North American Breweries family along with Seattle-based Pyramid and Rochester, N.Y.-based Genessee. However, long-running operations like Long Trail and Harpoon and an innovative and creative group of relative newcomers like Hill Farmstead and Heady Topper IPA brewer The Alchemist help beer make up 2.4% of Vermont's economy.

With a brewery for every 26,000 people in the state, according to The Brewers Association, Vermont has the best ratio of citizens to brewers in the country. That's an independent streak worth raising a glass to.
Are you sure you want to delete this comment?
DATA PROVIDERS
Copyright © 2014 Microsoft. All rights reserved.
Fundamental company data and historical chart data provided by Morningstar Inc. Real-time index quotes and delayed quotes supplied by Morningstar Inc. Quotes delayed by up to 15 minutes, except where indicated otherwise. Fund summary, fund performance and dividend data provided by Morningstar Inc. Analyst recommendations provided by Zacks Investment Research. StockScouter data provided by Verus Analytics. IPO data provided by Hoover's Inc. Index membership data provided by Morningstar Inc.
MARKET UPDATE
[BRIEFING.COM] The stock market began the new week on a cautious note. The S&P 500 lost 0.3%, but managed to erase more than half of its opening decline. Thanks to the rebound, the benchmark index reclaimed its 50-day moving average (1976.78) after slipping below that level in the morning.

Equities slumped at the open amid a couple global developments that dampened the overall risk appetite. Continued student protests in Hong Kong and a potential response from China weighed on the ... More
More Market News