'Storage Wars' suit raises doubts about reality TV
One former cast member says he was fired after complaining about its authenticity. These programs generate millions of dollars in ad revenue for their networks.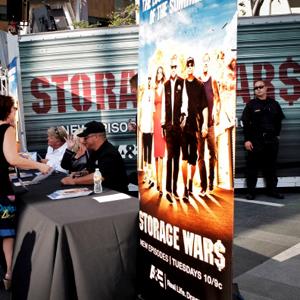 Ever wondered how much of reality TV is phony? A new lawsuit involving "Storage Wars" may shed some light on the issue.
Dave Hester, the man whom "Storage Wars" fans love to hate, claims in a blockbuster lawsuit that he was fired from the hit TV show after complaining that it was faked. This case should make viewers and investors question what is "real" on reality television.
"Storage Wars" follows the adventures of a group of people in Southern California who buy abandoned storage lockers in the hopes of making a profit from the contents inside after only getting a brief glimpse of them before the auction starts. It is hugely popular, attracting the 8th biggest audience this year among basic cable shows in the coveted 18- to 49-year-old demographic,
according to TV by the Numbers.
The show wasn't what it appeared to be, according to Hester's lawsuit, which claims producers paid for one of the show's female cast members to have plastic surgery to enhance her sex appeal. An A&E spokesperson couldn't be reached and Hester didn't return an email sent through his website. The network's parent, A&E Television Networks, is a joint venture between
Walt Disney
(
DIS
) and the Hearst Company.
"Defendants regularly salt or plant the storage lockers that the subject of the auctions portrayed in the series with valuable or usual items to create drama and suspense for the show," the lawsuit says. "The producers of the series have scheduled appraisals of items in storage lockers several weeks before they are supposedly 'discovered' by a cast member who wins a particular auction."
"Storage Wars," which has spawned spinoffs in Texas and now New York as well as rivals such as "Auction Hunters," has turned a once-sleepy industry on its head. Attendance at auctions has skyrocketed because of the shows, as has the prices the contents in the units are fetching. Though the furor has died down some, these programs still generate millions of dollars in ad revenue for their networks.
Some in the collectable world have long been suspicious of "Storage Wars," partly because storage lockers mostly contain mundane household items. While people do occasionally score cool, valuable finds at auctions, those are the exceptions rather than the rule. Most people have enough sense to move their pricey mementos out of a locker if they fall behind on their rent.
"I know that Dave Hester is a hard-working, upfront, honest guy," writes Gary Sohmers, a pop culture collectable appraiser who has appeared on "Antiques Roadshow" for years. "Money can be made on storage auctions, but to meet the budget that show has, they have to make a lot more TV magic than would naturally exist in the marketplace."
A&E is the sister network of the History Channel, home to two other collector show hits. "Pawn Stars" chronicles a family-run pawn shop in Las Vegas and the stars of "American Pickers" scour the backroads of America looking for hidden treasures. Though I am a fan of both shows, they make the business of buying and selling antiques to be much easier than it is in real life.
"Pawn Stars" lately has been testing my patience. A recent episode featuring Rick Harrison blowing $13,000 on a fake autograph of an illiterate baseball legend seemed far fetched, to say the least. Harrison seems far too smart to make such a costly blunder. Viewers of "American Pickers" may get the idea that stars Mike Wolfe and Frank Fritz are partners in the Antique Archeology business featured on the show, but Wolfe, however, owns the company and Fritz runs his business operations separately.   Spokespersons for the History Channel refused to answer questions about the shows for this article.
It's too soon to say if Hester's lawsuit will cause any damage to A&E or to collectors' shows in general. Media analyst Brad Adgate of Horizon Media said advertisers won't care about the allegations as long as the show's ratings don't suffer.
"They obviously have a formula that is working," he said.
More from Money Now
DATA PROVIDERS
Copyright © 2014 Microsoft. All rights reserved.
Fundamental company data and historical chart data provided by Morningstar Inc. Real-time index quotes and delayed quotes supplied by Morningstar Inc. Quotes delayed by up to 15 minutes, except where indicated otherwise. Fund summary, fund performance and dividend data provided by Morningstar Inc. Analyst recommendations provided by Zacks Investment Research. StockScouter data provided by Verus Analytics. IPO data provided by Hoover's Inc. Index membership data provided by Morningstar Inc.
MARKET UPDATE
[BRIEFING.COM] Equity indices remain near their flat lines as heavily-weighted sectors continue trading in mixed fashion.

At this juncture, the industrial sector (-0.6%) is the weakest performer among cyclical groups with defense contractors pressuring the space. The PHLX Defense Index is lower by 1.1% with just about every component trading lower. Including today's decline, the Defense Index is now down 2.4% for the week and off 0.7% so far in September. On the upside, General ... More
More Market News