JC Penney CEO Johnson may be running out of time
After a disastrous holiday quarter, the board is now said to be considering either firing the embattled boss or selling the company.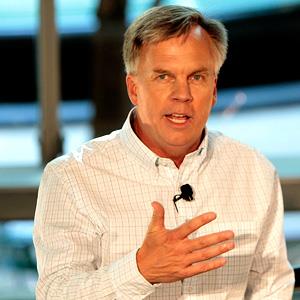 A lot has changed since J.C. Penney (JCP) Chief Executive Ron Johnson secured his job in 2011 with the fervid support of hedge-fund manager Bill Ackman. 
For starters, Johnson has lost Ackman -- and many other Penney shareholders -- a lot of money. He has also alienated much of Penney's core customer base by eliminating coupons and sales, bringing the more than 100-year-old retailer to a precarious position.
Now, Penney's board is losing patience with Johnson's leadership and is considering either selling Penney or replacing Johnson, if it can't reverse a steep decline in sales within the year, according to The Wall Street Journal. 
The 11-person board includes Ackman -- the retailer's largest shareholder, who championed Johnson's appointment Ackman also once called Johnson "the Steve Jobs of the retail industry," referring to Apple's (AAPL) late co-founder. Johnson previously ran Apple's retail operations and is credited with pioneering the highly successful Apple Stores. 
As recently as January, Ackman was coming out in support of Johnson, telling CNBC that the company would "make progress" under his leadership. "If three years from now, Ron Johnson is still struggling to turn around JC Penney, he's probably the wrong guy," Ackman said.
That three-year window has been shortened to only a year, after the shares plunged 24% this year through Tuesday. The stock took a dive last week after the company reported a horrendous holiday quarter.
One board member has expressed his displeasure with the massive sell-off: Steven Roth, chairman of Vornado Realty Trust (VNO), once the retailer's second-biggest shareholder. Vornado on Monday sold off almost half its stake in Penney, according to Bloomberg Businessweek. 
The board, which includes Johnson, will closely track sales and merchandising over the next six months. If sales continue to suffer, the board will consider replacing Johnson or even selling the retailer, the Journal notes. 
While Johnson was brought in to fix Penney, he has left it in more desperate shape than he found it. As MSN moneyNOW detailed on Thursday, the CEO has made a series of strategic missteps, including a legal mess with Macy's that could leave Penney's home-good shelves bare and failing to test the much-reviled no-discounts strategy before implementing it. 
About moneyNOW
moneyNOW brings users smart, original and entertaining takes on the latest business and investing topics that are buzzing on the web.
MARKET UPDATE
[BRIEFING.COM] The Russell 2000 crosssed the 1,000 level for the first time ever today and the S&P 500 established a new all-time, intraday high. Those were some of the more memorable highlights of what was an otherwise nondescript day of trading.

By and large, there just wasn't a lot of conviction on the part of either buyers or sellers. The major indices spent time on either side of the unchanged line, but never put a whole lot of distance between themselves and ... More
More Market News
TOP STOCKS
Silver takes a dive, then sees a rebound
Bargain hunting gives silver a boost after a nasty dive in overnight markets. But worries about rising interest rates and a possible U.S. debt downgrade gives the metal a boost.