Amazon's expansion plans may squeeze margins
Wall Street cheered the retailer's fourth-quarter earnings, but a profit measure the company says is most important has been trimmed as it builds data and fulfillment centers.
Deep in any annual report for
Amazon.com
(
AMZN
) is this sentence: "Our financial focus is on long-term, sustainable growth in free cash flow per share."
If that's the case, then investors should be beating up the stock of the nation's eighth-largest retailer.
Free cash flow, which the company defines as operating cash flow less capital expenditures, rose steadily between 2004 and 2009, reaching a peak of $2.92 billion, or $6.61 a share. Then, it started to drop.
In 2012, free cash flow dropped to $395 million, or about 87 cents a share. Amazon suggests that's an outlier because part of the decline came as it paid out $1.4 billion for its new headquarters in downtown Seattle. It borrowed the money to pay for the complex.
Even if you add back the $1.4 billion, free cash flow would have been $1.8 billion in 2012, down from $2.09 billion in 2012 and the third straight year decline.
The reason free cash flow has been getting squeezed is that Amazon embarked on an aggressive capital spending program. The company spent $3.87 billion in 2012 adding new data centers and 20 fulfillment centers -- as well as the new headquarters -- to wall itself off from other online retailers and continue its assault on traditional retailers, such as
Wal-Mart
(
WMT
).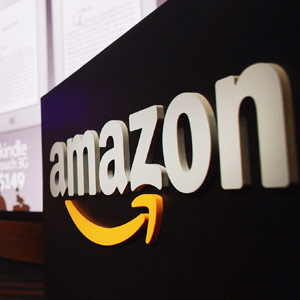 The assumption investors have made is that all that spending will mean rising earnings in years to come.
It's not clear, however, if the spending is winding down. Asked during Tuesday's call to quantify how many more fulfillment centers are coming in 2013, chief financial officer Thomas Szkutak would only say, "Just stay tuned and we will let you know as the year progresses."
If it isn't, the stock may get pressured. Amazon is often vague on details. It described its electronic-book business as "a multi-billion dollar category for us and growing fast." It said its 2012 sales were up 70% and then said its December book sales rose just 7%. But there no details. It says its Kindle e-book sales are strong but doesn't include data.
What cheered investors in Tuesday's earnings report was the expansion of the company's gross profit margin from 21% to 24%. Sales were up 22% in the fourth quarter from a year earlier to $21.3 billion and 27% year over year to $61.1 billion.
The shares climbed as much as 9% after hours. On Wednesday, the shares settled back and closed with a still-impressive 4.8% gain to $272.76. They're up 8.7% in January after rising 45% in 2012, 14th among stocks in the
Nasdaq-100 Index
(
$NDX
).
More on moneyNOW

I don't think Amazon is doomed,and they don't just sell books and CD's. Go on line and look at what they sell, it's incredible. I even bought a water pump for my car on Amazon and it was 20% cheaper that the chain auto parts store. By the way, I am currently doing construction work in an Amazon fulfillment center so I have seen their operation up close. They are extremely efficient and manage inventory very well. I think Jeff Bezo's strategy is right on. Even in a recession their sales are up and the new fulfillment centers will only make the company more profitable.

unemployment claims are staggeringly high now , the economy is CONTRACTING!!!! wow!! didn't see that comin' huh!! and this is what makes the news? Amazon is doing fine, we've got an UNEMPLOYMENT problem that's more important to deal with then anything else, spiked up 'unexpectedly' the lib scum media luv that bullshiiiit term, the correct one is "not surprisingly" spiked up, just look at whose disgracefully occupying the White House, nuff said.

Amazon should be down and apple up. Amazon makes most of it's money selling books, DVD's and CD's. All three are going bye bye. You can't make a large profit on electronic downloads because of the competition. They loose money or make next to nothing on the Kindle Fire line and download purchases do not make up the difference. Amazon is doomed to a slow but eventual decline far more than Apple.

Are you sure you want to delete this comment?
DATA PROVIDERS
Copyright © 2014 Microsoft. All rights reserved.
Fundamental company data and historical chart data provided by Morningstar Inc. Real-time index quotes and delayed quotes supplied by Morningstar Inc. Quotes delayed by up to 15 minutes, except where indicated otherwise. Fund summary, fund performance and dividend data provided by Morningstar Inc. Analyst recommendations provided by Zacks Investment Research. StockScouter data provided by Verus Analytics. IPO data provided by Hoover's Inc. Index membership data provided by Morningstar Inc.
MARKET UPDATE
[BRIEFING.COM] The S&P 500 (-0.4%) remains near its low and is facing a bit of a challenge as five sectors display relative weakness, leaving the energy sector (-0.1%) as the top performer. The sector has received a measure of support from crude oil, which is higher by 0.9% at $91.73/bbl.

Elsewhere among commodities, gold futures ended the pit session with a gain of 0.3% at $1222.10/ozt, while silver and copper settled little changed at $17.78/ozt and $3.04/lb, respectively. ... More
More Market News