Desperate for cash, Postal Service hikes stamp price
A 1-cent jump in the price of stamps comes as the USPS struggles to stop the financial bleeding.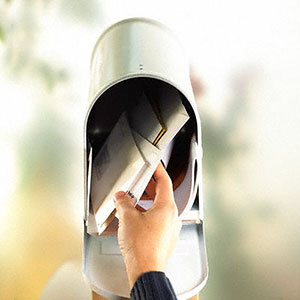 For those of us still using snail mail, there's another price hike coming from the U.S. Postal Service.
Starting on Sunday, and as announced last October, the Postal Service will be raising the cost of a first-class stamp by a penny, to 46 cents.

Postcard stamps also increase 1 cent to 33 cents, and letters to all international destinations will now have one set price of $1.10.
Not that these rate hikes are likely to have any significant impact on the USPS' ongoing financial woes.
While it has seen record growth in its package delivery business, the Postal Service continues to bleed money, hobbled by what one of its press statements calls "an inflexible business model that hinders its ability to be self-sufficient."

For fiscal 2012, the Postal Service defaulted on $11.1 billion in mandated payments to the U.S. Treasury -- which in turn contributed to a record loss of $15.9 billion.
The USPS receives no tax dollars for its operating expenses, relying on the sale of postage, products and service for funding. It's been reducing its annual cost base by about $15 billion since 2006 and has cut its workforce by 168,000, or 24% -- while reducing hours, closing some small post offices and consolidating others.
Part of the issue is the rise of email and other more immediate forms of communication. The Postal Service's volume of single, first-class mail has reportedly been cut in half since 2002 -- and its total mail volume is down 25% since 2006.
And the New York Times reports USPS is losing out to private shipping companies like UPS (UPS) and FedEx (FDX) on long-term shipping contracts.

There's a petition on the White House web site, meanwhile, urging the Obama Administration to "Save the Post Office."
"The Postal Service is not a federal agency," the petition notes. "It does not cost taxpayers a dollar. It loses money only because Congress mandates that it do so."
The petition goes on to warn that if Congress doesn't take action, the USPS could go bankrupt later this year -- and it urges lawmakers "to free the Post Office from its congressionally mandated obligations and allow it to raise additional revenue so that it can become self-sustaining once again."
More on moneyNOW
MARKET UPDATE
[BRIEFING.COM] Equities trade modestly lower with the S&P 500 off by 0.4%.

The benchmark average has spent the first half of the session in a steady climb after notching its lows 30 minutes after the open.

Nine of ten sectors trade with losses of at least 0.3% while consumer staples buck the trend. Dow component Procter & Gamble (PG 81.87, +3.17) has provided a boost to the defensively-oriented sector after the company reaffirmed its fourth quarter ... More
More Market News