Hotel bathtubs are becoming an endangered species
Newer facilities from the big lodging chains now favor luxurious showers, as many consumers apparently do as well.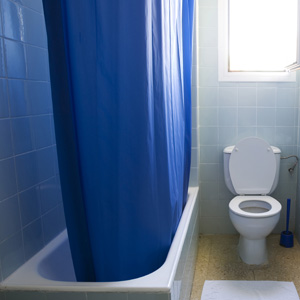 If you spend a lot of time traveling on business and living out of your suitcase, you might have noticed something odd about bathrooms in many of the newer hotels. That is, their lack of a bathtub.
Certainly, many travelers still enjoy a long soak while on the road. And, of course, families with small children may need those tubs for their kids' cleanliness, playtime and as a transition to bed.
But on the whole, "less than 2% of people ever use a bathtub in a hotel room -- except at a resort," veteran hotel consultant Michael Matthews told Joe Brancatelli at BizJournals.com several years ago.
So, the hotel industry is now taking note of consumer trends while saving bathroom space -- and overall costs -- by installing luxurious showers instead of tubs in their new and renovated rooms.
NBC News recently quoted a spokeswoman for Marriott (MAR) who said the hotel chain is "advising our newly built hotels to put showers in 75% of the rooms and bathtubs in 25% of the rooms."
The Wall Street Journal reports Holiday Inn, now owned by InterContinental Hotels Group (IHG), had tubs in 95% of its rooms just a decade ago. But that's down to 55% at its newly built facilities.
"We've committed to 60% [shower-only rooms] and we're not going back," Adrian Kurre, senior vice president of Hilton's Garden Inn brand told Brancatelli. Hilton is now owned by Blackstone Group (BX). "Business travelers," he added, "prefer showers."
Two other factors that are sending hotel bathtubs to the showers. One is the so-called "ick" factor: using a tub that's not yours exclusively, no matter how clean it may be. The other is that the majority of hotel accidents take place in either a guest's bathtub or shower. So, eliminating the potential liability risk of a bathtub can also benefit a hotel's bottom line.
But even having a swank hotel shower with all the spa-like bells and whistles can go only so far when it comes to attracting business travelers.

A new, six-month study by Boston-based Brodeur Partners analyzed 18,000 online conversations about hotel choices and preferences. One of its major findings was that while a lot of hotels have been investing in better beds as a selling point, "the subject that most people talked about in the 'touch' or 'feel' category [of a good hotel room] was the shower, specifically the water pressure of the shower."

I wouldn't set my butt in a  hotel bathtub for cleanliness reasons. The only time I have sat in my own bathtub in the last thirty years is because of health issues (back problems). Even then, I drained the tub and took a shower afterwards. It makes sense to me that hotels are eliminating the bathtubs. 
Are you sure you want to delete this comment?
DATA PROVIDERS
Copyright © 2014 Microsoft. All rights reserved.
Fundamental company data and historical chart data provided by Morningstar Inc. Real-time index quotes and delayed quotes supplied by Morningstar Inc. Quotes delayed by up to 15 minutes, except where indicated otherwise. Fund summary, fund performance and dividend data provided by Morningstar Inc. Analyst recommendations provided by Zacks Investment Research. StockScouter data provided by Verus Analytics. IPO data provided by Hoover's Inc. Index membership data provided by Morningstar Inc.
MARKET UPDATE
[BRIEFING.COM] The S&P 500 (-0.1%) continues hovering right below its flat line with heavily-weighted sectors like financials (-0.2%), industrials (-0.1%), and technology (-0.5%) pressuring the broader market.

On the upside, countercyclical telecom services (+0.6%) and utilities (+0.7%) sport solid gains, but the two groups carry little influence over the broader market since they represent just 5.4% of the entire S&P 500. Meanwhile, the top-weighted sector-technology-accounts ... More
More Market News
TOP STOCKS
Up next: The biggest bank IPO ever
The expected $3.36 billion offering from Citizens Financial Group won't come close to Alibaba's, but it will be an important one for the market.