Smoking lounges disappearing from US airports
The tobacco industry objects to the move, saying they have a right to serve their millions of customers.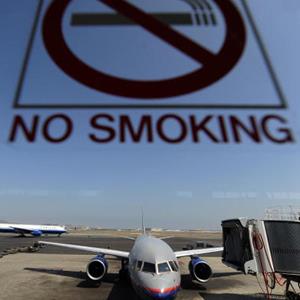 There's only one public indoor space in the entire state of Colorado where a person can legally smoke cigarettes -- a designated lounge at Denver International Airport. And soon, even that spot will be just a memory.

The airport closed three of its four smoking lounges last year. The final lounge will close for good when its lease expires in 2018.
The news comes less than a month after an air quality study by the U.S. Centers for Disease Control and Prevention at five major American airports with smoking lounges. According to the report, limiting smoking to the designated lounges doesn't eliminate non-smokers' exposure to second-hand smoke.

Time Magazine reports that in 2011, about 15% of all U.S. air travel took place at the five airports in question: Hartsfield-Jackson Atlanta International Airport, Washington Dulles International Airport, McCarran International Airport in Las Vegas, Denver International and Salt Lake City International Airport.

Still, anti-smoking forces appear to be gaining -- fueled by greater public awareness and a tobacco industry whose marketing practices were tightly reined in by the landmark 1998 settlement that awarded billions of dollars to all 50 U.S. states.

In 2002, only 13 of the nation's large large-hub airports had smoke-free policies. But the American Nonsmoker's Rights Foundation says that, as of January 2013, 29 of the nation's 35 top airports are smoke-free indoors.

Federal law bans smoking on all U.S. domestic and international commercial flights -- but there's no federal policy requiring airports to be smoke-free.

And some tobacco producers, according to the CDC, "have promoted and paid for separately enclosed and ventilated smoking areas in airports and have opposed efforts to implement smoke-free policies in airports."
The CDC estimates about 20% of people in the U.S., more than 45 million men and women, smoke cigarettes. And the tobacco companies say they have right to serve their consumers.

Philip Morris International (PM), one of the world's largest tobacco companies, says it agrees the effects of second-hand smoke require some restrictions on smoking in public places, as well as smoking bans in many locations.

However, the company notes, "a balance should be struck. . . between the desire to protect non-smokers, especially minors, from exposure to second-hand smoke, and allowing the millions of people who smoke to do so in some public places."
Last year, British American Tobacco (BTI) defended what it called its right "to engage transparently on issues affecting its legitimate business selling a legal, highly regulated product that many adults choose to use."
And of course there's the issue of smokers still needing a place to light up, even in a supposedly smoke-free airport.
"It's been our experience that people will smoke in the public areas if they are not given a [separate] place," Barbara Gann, spokeswoman for Salt Lake City International Airport, recently told the Salt Lake Tribune. "For example, employees and passengers alike will smoke in the public restrooms, or in front of the terminals ­-- which then causes people to walk through it."
"Smoking is still legal in this country," notes a 2012 Denver Post editorial that questions the closing of the Denver airport's smoking lounges. "Asking smokers to go for hours at a time -- longer if there are delays and layovers involved -- strikes us as punitive."
More on Money Now

i dont smoke or like to be around it, but it is only fair to have some area in the airport that people can smoke.  Unlike other public buildings, they cannot just go outside and smoke.  They have to go back through security each time they go outside.   It would be like if they didn't have bathrooms on the plane or in the terminal and you had to go back out the front door of the airport each time you had to pee.  If you had a long flight followed by a long layover, you would be very uncomfortable having to hold it.  You can argue that they shouldnt smoke in the first place but they do, and a little room that is sealed off from the rest for them is a reasonable compromise. 
Are you sure you want to delete this comment?
DATA PROVIDERS
Copyright © 2014 Microsoft. All rights reserved.
Fundamental company data and historical chart data provided by Morningstar Inc. Real-time index quotes and delayed quotes supplied by Morningstar Inc. Quotes delayed by up to 15 minutes, except where indicated otherwise. Fund summary, fund performance and dividend data provided by Morningstar Inc. Analyst recommendations provided by Zacks Investment Research. StockScouter data provided by Verus Analytics. IPO data provided by Hoover's Inc. Index membership data provided by Morningstar Inc.
MARKET UPDATE
[BRIEFING.COM] S&P futures vs fair value: -6.30. Nasdaq futures vs fair value: -14.80. U.S. equity futures trade hover near their pre-market lows amid cautious action overseas. The S&P 500 futures hover six points below fair value, which puts the benchmark index on track to continue its retreat after losing 0.8% yesterday.

Overnight, markets in Asia traded in mixed fashion, but sentiment worsened after the start of the European session, where all the key indices hold losses ... More
More Market News