Hot trend for lingerie stores? Targeting teens
As retail sales growth slows, Victoria's Secret and other stores are targeting younger girls with colorful bras and other intimates.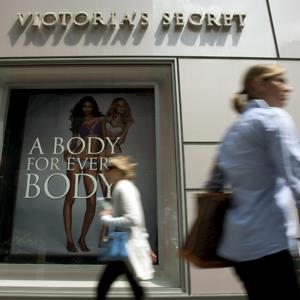 Victoria's Secret was once considered a shopping destination for the woman over the age of 18 who had her own income and, presumably, a love life to go with it. 

But now the chain, run by Limited Brands (LTD), and other retailers have hit upon a growth market: teenage girls, from middle-school grades and up, according to Bloomberg News. 
Speaking about her 13-year old daughter, shopper Kathleen Jordan told Bloomberg, "Now she has more bras than I do, in every color under the sun." She added that her daughter's girlfriends are also buying intimates from Victoria's Secret. 
Justice, a store that sells to 7- to 12-year-olds, is selling flowered panties and tie-dye bras, while teen chain Hot Topic is testing an edgy line of intimates that include a "killer extreme push-up bra" and panties with skulls and and ruffles. 
The retailers are "all going to say they're targeting 18- to 22-year-olds, but the reality is you're going to get the younger customer," Marcie Merriman, founder of retail and brand strategy consultancy PrimalGrowth, told Bloomberg. 
It's a far cry from the limited choices that middle-school and high-school girls had just a couple decades ago. Then, the biggest choice was what color of cotton underwear to pick. Teens and younger girls now aspire to the styles worn by celebrities, ranging from thongs to colorful bras that are worn to be visible under clothing. 
The push toward younger lingerie buyers comes as retail sales growth slows. Retail sales barely budged last month, as consumers were hit by higher taxes and gasoline prices, Reuters reports. 
Victoria's Secret's Pink brand, meanwhile, is expected to become a $3 billion business -- up from about $1.5 billion now -- in a few years, Bloomberg notes. While the brand is sold to all ages, it's popular with younger buyers.
More on moneyNOW
Are you sure you want to delete this comment?
MARKET UPDATE
[BRIEFING.COM] Stocks ended modestly higher as the S&P 500 climbed 0.2%, and the Dow added 0.4% to register its 19th consecutive Tuesday of gains.

The major averages saw little change during morning action, but afternoon buying interest helped lift the indices to session highs. Most cyclical sectors (with the exception of materials and technology) finished among the leaders, but the defensively-geared health care sector settled atop the leaderboard as biotechnology outperformed. ... More
More Market News
TOP STOCKS
S&P 500 forecast to hit 2,100 by 2015
As the stock market reaches new highs, Goldman Sachs sees more gains ahead. Fueling the market: An improving economy, growing dividends and low interest rates.