When will gas prices stop rising?
Some analysts are puzzled by the increase, and one says the national average could easily top $4 a gallon this spring.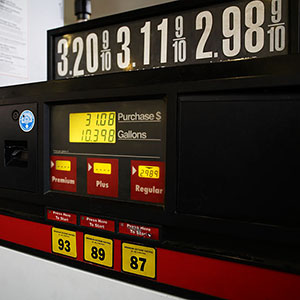 The start of 2013 has been tough for consumers. Many saw a chunk missing from their take-home pay when payroll taxes increased. Now they're getting hit at the gas pump, with fuel prices climbing by nearly 14% since Jan. 1 to an average $3.75 a gallon. 

What's behind the jump? Refinery shutdowns are leading "to tighter supply, which also has driven up prices," a spokeswoman for AAA told The Wall Street Journal.
Hess (HES) is shutting down its Port Reading, N.J., refinery, while other refineries have reduced supply because of planned repairs. Refineries often use winter for maintenance, given historically lower demand for gasoline as drivers cut back in poor weather, the Journal notes.
But some analysts are puzzled by the rise, given that gas prices typically see a jump in March and April, when drivers start using their cars more frequently, Business Insider reports.
There's one trend analysts are agreeing on: Prices aren't likely to reverse direction anytime soon. 
"Traditionally, gas prices rise anywhere from 40 to 60 cents a gallon in late March through early May," GasBuddy.com oil analyst Patrick DeHaan told the New York Post. He says if that happens this year, "it will easily send the national average over $4 a gallon."
That's already a reality in some areas. Residents in Southern California are paying the highest prices in the country, with Santa Barbara drivers paying an average of $4.32 a gallon, according to GasBuddy.com. The cheapest gas is found in Billings, Mt. -- a hub for state's oil boom -- where a gallon sells for an average of $3.17. 
Some consumers are paying even more: A few locations have reported gas prices of more than $5 per gallon. One station in Los Angeles on Monday was selling regular unleaded for $5.19 a gallon.
At that price, a car with a 17-gallon tank would require more than $88 to fill up. With big bucks flowing into gas tanks, it's possible that consumers will look to cut back in other areas -- and that could create a challenge for the stock market and the U.S. economic recovery.

More on moneyNOW
About moneyNOW
MoneyNOW brings users smart, original and entertaining takes on the latest business and investing topics that are buzzing on the Web.
MARKET UPDATE
[BRIEFING.COM] The major averages ended modestly lower with the S&P 500 shedding 0.3%.

The benchmark average saw an opening loss of 1.2% after Japan's Nikkei tumbled 7.3%. Japanese stocks sold off amid continued volatility in Japanese Government Bond futures as the 10-yr yield spiked almost 16 basis points to 1.002 before the Bank of Japan's JPY2 trillion liquidity injection caused yields to retrace their gains.

Adding insult to injury was news out of China where the HSBC ... More
More Market News
TOP STOCKS
Housing heats up
In this edition of Investor Beat: new home sales rise in April. What does that mean for investors?