NBC Sports to sponsor firearm trade show
The network is a longtime sponsor of the event and will continue to support it despite a renewed debate over gun control.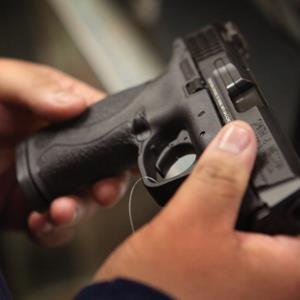 Amid a nationwide debate about gun laws, Comcast's (CMCSA) NBC Sports is continuing to sponsor one of the biggest gun shows in the country.

The SHOT Show, which runs in Las Vegas from Tuesday to Friday, last year attracted more than 57,000 attendees and 1,600 exhibitors. To be sure, not anyone can get into the show: It's not open to the public, and only commercial buyers and sellers of shooting, hunting and related trades are allowed, according to the show's website.
The support of the show isn't new for NBC Sports. It's been involved "for several years as part of our commitment to our outdoor programming block," NBC Sports spokesman Greg Hughes tells MSN Money. 
While Hughes wouldn't disclose the amount of its sponsorship, he did note that the value is "very nominal."
NBC Sports Network, which changed its name from the Versus network over a year ago, airs outdoor programming such as "Whitetail Diaries," which features "the best hunting stories from across the country that highlight North America's most popular game animal, the whitetail deer," according to the network's site.
The sponsorship may raise some eyebrows given NBC Sports host Bob Costas' on-air call for stricter gun control during a December game between the Philadelphia Eagles and Dallas Cowboys. Later that month, a gunman killed 20 children at an elementary school in Newtown, Conn.

As a result, gun control laws have been under debate, with some pushing for stricter regulations. Some Americans have been buying guns as they grow concerned that U.S. lawmakers will restrict access to firearms. 
"If I had 1,000 AR-15s I could sell them in a week," gun dealer Jack Smith told the New York Times. He referred to a type of semiautomatic rifle that was used by the Newtown school shooter. 
In the meantime, as the SHOT show gets ready to open Tuesday, NBC Sports won't be alone in supporting the convention. According to the show's website, other sponsors include Dodge Ram, the city of Las Vegas and the Outdoor Channel.
More on Money Now
MARKET UPDATE
[BRIEFING.COM] The major averages ended modestly lower with the S&P 500 shedding 0.3%.

The benchmark average saw an opening loss of 1.2% after Japan's Nikkei tumbled 7.3%. Japanese stocks sold off amid continued volatility in Japanese Government Bond futures as the 10-yr yield spiked almost 16 basis points to 1.002 before the Bank of Japan's JPY2 trillion liquidity injection caused yields to retrace their gains.

Adding insult to injury was news out of China where the HSBC ... More
More Market News
TOP STOCKS
Many signs point to a dollar rally
With Europe mired in recession, China faltering, commodities declining and stocks looking vulnerable, investors seeking safety will look to the greenback.