Bank industry woes sink strip clubs
Layoffs and pay cuts at financial institutions bring tough times for dancers in London, and strippers in the US may also see slower business soon.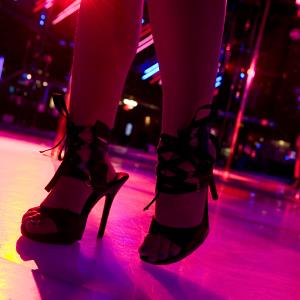 During peaks and valleys in the economic cycle, well-paid banker bros are always comfortable investing in one particular commodity: silicone.
Until they lose their own jobs, that is, then strip-club pocket money suddenly has to go somewhere other than the nearest garter. This has been the problem of late for free-spending London bankers who suddenly find themselves cash-strapped after a spate of layoffs and cutbacks. Their Lower Manhattan colleagues who frequent establishments like New York Dolls and Scores may be stripped of their lap-dance allowance disposable singles soon enough.
On Tuesday, Britain's Barclays (BCS) bank announced that it would cut 3,700 jobs globally in 2013 as part of a strategic overhaul, with 420 jobs in its U.K. technology and infrastructure division to go as well as 275 jobs in New York at the old Lehman Brothers building. Meanwhile, British bank RBS (RBS) is cutting a further 3,500 jobs in the U.K. and elsewhere while Dutch banking and insurance group ING is cutting 7,500 jobs.
Add that to the 13,500 jobs Swiss bank UBS (UBS) has cut since the financial crisis began in 2007 and roughly 160,000 jobs have been lost from the banking sector worldwide, according to Reuters. Those fortunate enough to keep their jobs have seen banks cut back pay and bonuses, institute claw-back policies for the bonuses they do pay out and paying those bonuses in shares and deferred payments rather than cash.
With instant gratification becoming a distant memory for most bankers thanks to risky trading and the Libor interest rate fixing scandal, London's strip clubs have become a bellwether for conspicuous consumption. News from the front of the stage is already grim.
"They tell me inside on the floor that business is going down,the customers are spending less money, there's a smaller amount of people coming in now," a source at a central London strip club told CNBC.
When the strip clubs are in trouble, bad times for everyone else aren't far behind. Restaurants like 1 Lombard Street, across from the Bank of England, offers three-course meals for $100 per person but has seen dinner business drop in the last year as bankers trade the a la carte menu for the specials list. The members-only Brompton Club in London's tony South Kensington neighborhood has seen its more affluent clientele leave for Geneva and elsewhere and its party bookings dwindle. London's booming property investment market has watched bankers slip from 50% of the buyer base five years about to just 30% today.
Will any of this affect bankers and business in America? It's still a bit early to tell, but converting that $20 in your wallet to singles and going to a strip club in the nearest financial district is certainly one way to find out.
More on moneyNOW
DATA PROVIDERS
Copyright © 2014 Microsoft. All rights reserved.
Fundamental company data and historical chart data provided by Morningstar Inc. Real-time index quotes and delayed quotes supplied by Morningstar Inc. Quotes delayed by up to 15 minutes, except where indicated otherwise. Fund summary, fund performance and dividend data provided by Morningstar Inc. Analyst recommendations provided by Zacks Investment Research. StockScouter data provided by Verus Analytics. IPO data provided by Hoover's Inc. Index membership data provided by Morningstar Inc.
MARKET UPDATE
[BRIEFING.COM] The stock market finished the Tuesday session on the defensive after spending the entire day in a steady retreat. The S&P 500 (-0.6%) posted its third consecutive decline, while the small-cap Russell 2000 (-0.9%) slipped behind the broader market during afternoon action.

Equity indices were pressured from the start following some overnight developments that weighed on sentiment. The market tried to overcome the early weakness, but could not stage a sustained rebound, ... More
More Market News