Why air travel is only going to get worse
By midcentury, climate change will intensify atmospheric turbulence. Get ready for some wild rides.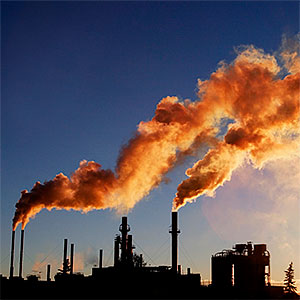 Climate change is getting blamed for all sorts of issues on Earth, including shrinking ice sheets and warmer oceans. Now a new study says it's also going to affect the air above us, with shifts in the jet stream leading to worsening clear-air turbulence.

The bottom line for airline travelers: Get ready for more white-knuckle flights.  
Clear-air turbulence differs from storm-related problems because it derives from jet streams, or large currents of air that swirl through Earth's atmosphere, and happen under blue-sky conditions, according to National Geographic.
"The pilot can't see it, and the sensors onboard can't see it -- that's why it's a particularly dangerous form of turbulence," atmospheric scientist Paul Williams, a lead author on the paper, told the publication. 
Turbulence is already a big issue for airlines such as United Airlines (UAL), with commercial aircraft encountering such atmospheric disturbances "tens of thousands of times each year worldwide, injuring probably hundreds of passengers (occasionally fatally), costing airlines tens of millions of dollars and causing structural damage to planes," according to the paper, published in the journal Nature Climate Change. 
The models used by the scientists all showed increases in clear-air turbulence, although some predicted more than double the current frequency, National Geographic notes. 
But that doesn't mean your plane will break apart in midflight, as most aircraft are built to handle forces that are much greater than the turbulence that's forecast. 
It could lead to more injuries, however, especially to crew members who aren't buckled in. And for anyone who has had a bumpy ride, that certainly means enduring more scary experiences. 
"I used to not keep my seat belt fastened, but now I always do," Williams told the publication.
I fly weekly...Once I was on a flight from Dallas to Baton Rouge...it was a small plane and we were flying around a major storm...the plane had less than 20 ppl on it...I was surrounded by a family with kids and some old people...they asked me if I fly all of the time and if this was ok...I said weekly and this was very normal...it got really crazy (500 ft drop and as rough as i have ever felt)..the whole time I lied right through my teeth about how normal this was and I see it like this often...when we landed i dam near threw up and looked at those ppl and told them that was the worst flight I have ever been on and I was scared to ****...the one old lady told me "Bless your soul"..LOL...see not all lies are bad.

Airline travel may get better. I sent a suggestion to NASA to check into whether or not the lift characteristics having to do with a "Frisbee" could be used to get a handle on the challenging subject of wind shear. I'd always felt that Frisbees sailed very smoothly through the air and I also determined that the lift and shape of the contours of the Frisbee need not be limited to use for that particular invention, which, everybody always knew you could take a record and sail it off like a saucer, but the Frisbee grabs the wind and also can be angled. It could be supported on actuating stands activated by telltale sensors on the sides of the aircraft when affected to a degree or metric by wind shear. Maybe they will take my idea, or the things they learn from the Frisbee anyway if it should be wind tunnel tested, and make safer airplanes. If you see new planes with Frisbee-shaped concave impressions in the skin of the fuselage or large smooth aluminum discs attached at various places on control surfaces in the new planes, it'll probably be because I made the suggestion. When wind shear hits, the planes need extra strong lift and like those personnel carriers in Iraq that were designed to keep from getting blown to bits, contours of the planes could change as well. Try throwing a Frisbee upside down sometime and notice the "drop" effect.
Are you sure you want to delete this comment?
DATA PROVIDERS
Copyright © 2014 Microsoft. All rights reserved.
Fundamental company data and historical chart data provided by Morningstar Inc. Real-time index quotes and delayed quotes supplied by Morningstar Inc. Quotes delayed by up to 15 minutes, except where indicated otherwise. Fund summary, fund performance and dividend data provided by Morningstar Inc. Analyst recommendations provided by Zacks Investment Research. StockScouter data provided by Verus Analytics. IPO data provided by Hoover's Inc. Index membership data provided by Morningstar Inc.
MARKET UPDATE
[BRIEFING.COM] Not much change in the major averages as they continue hovering near their lowest levels of the day. The S&P 500 (-0.8%) notched its session low around 12:00 ET and has maintained a seven-point range since then. Meanwhile, the price-weighted Dow Jones Industrial Average (-0.5%) continues trading a little ahead of the benchmark index.

Six Dow components remain in the green, but the leading performer, DuPont (DD 71.75, +0.50), is the only stock showing an increase ... More
More Market News