Dell buyout plan hits shareholder resistance
Opposition to the $24 billion deal is growing, leading some analysts to expect that founder Michael Dell and his private equity partner will raise their bid.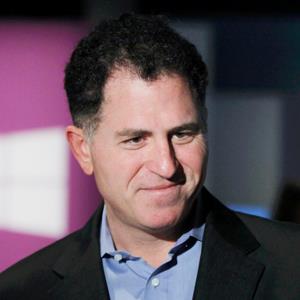 Michael Dell may have to raise his $24.4 billion offer to take the computer company he founded private. Irate shareholders are arguing that the proposed leveraged buyout undervalues the third-largest maker of personal computers.
T. Rowe Price and Southeastern Asset Management, the two largest
Dell
(
DELL
) outside shareholders, are against the $13.65-a-share deal being spearheaded by Dell and private equity company Silver Lake Partners. 
Another major shareholder, Richard Pzena of Pzena Asset Management, has told
Bloomberg News
that he will vote against the offer. Other money managers, including Yachtman Asset Management, aren't too enthused about it either.
Though some analysts argue that the deal may go through despite shareholders' objections, many seem to expect Michael Dell and Silver Lake to raise their bid.
Writing in a note to clients, Ashok Kumar of Maxim Group argued that there may be more value to Dell than is shown in the buyout, according to
Barron's
.
"When speculation around a deal emerged a few weeks ago, we indicated that a price tag of $15 to $18 made sense and we believe the take-out price will need to fall within this range," Kumar wrote.
Wall Street seems to think so as well. Shares of the Round Rock, Texas, company have surged more than 26% over the past month. They closed at $13.76 Wednesday.
Given the large amount of debt factored into the deal, it will be difficult for Michael Dell and Silver Lake to raise their offer materially, Stern Agee analyst Shaw Wu told Bloomberg. His view was backed up by Sanford C. Bernstein analyst Toni Sacconaghi, who The
Wall Street Journal
notes cut his rating on Dell to "market perform," warning that "a much higher bid was unlikely." If the deal is rejected, shareholders would face a "hard fall," the paper quotes him as saying.
--Jonathan Berr does not own shares of the listed stocks. Follow him on Twitter @jdberr.
More on moneyNOW

Dell's probably worth $22 to $28 per share after the minor PC slump passes and Dell is re-organized.  The buyers are just trying to way underpay to get a good deal -- they're taking advantage of the current PC slump (which is actually a fairly minor slump as slumps go) and the way over-hyped "death of the PC" to buy at a fire-sale price.  "Cord-cutting" was way over-hyped for cable- and satellite-service providers, and those companies have sky-rocketed since the phony gloom-and-doom.  It's lucky for Dell, HP and other PC makers that analysts and stock market gurus are as lousy at prognosticating future PC sales as they are at forecasting future stock prices.
The prospective buyers of Dell KNOW they are making a bid at stealing the company from current shareholders.  It wouldn't be wrong for them to underpay by 20% to 30% (since there is SOME risk; there's ALWAYS a risk factor of varying degree), but they're trying to underpay by 40% to 60%, which is a whopping amount to underpay by.  The final sale price should be in the range of $17 to $21 to be truly fair. 
Anyone who owns 51% of a company, can do as they please and screw all those stupid greedy investors, as it should be. But the idiot investors will never learn and continue to get screwed at will. Bend over fools!
Thanks for helping me expand my business worldwide in record time, idiots. I have no further use for you imbeciles and I'll be taking my company back and retaining 100% ownership, as it should be. It's mine, all mine!
Thanks for the money suckers!

its about time we get stock holders out of  business.  they are the ones who  are driving the  prices so  high on  goods.  greed  more  money  stick it  to the  little  guy  who can't  afford to  buy into  there greed. worked of a company that was privately  owned was changed  to  stock  market   first thing investertors  did  was  stop  the  bonus use to average  3% a year  raisers  that came to  a HALT   stock market is like the  unions  they got to  greedy  and now  we are going  broke 401k was the worst thing to happen to  america

Most companies are over valued on the market today and have been for many years. there was a major adjustment after 9/11 which brought share prices down to a more reasonable mesure but traders have once again inflated the values to pad thier pockets. If Dell was worth more than the offer the selling price right now would be higher . For anyone to suggest that the company is really worth $2 $ or $3 dollors more or even $28 a share is insain. If it was it would be there now.
Are you sure you want to delete this comment?
DATA PROVIDERS
Copyright © 2014 Microsoft. All rights reserved.
Fundamental company data and historical chart data provided by Morningstar Inc. Real-time index quotes and delayed quotes supplied by Morningstar Inc. Quotes delayed by up to 15 minutes, except where indicated otherwise. Fund summary, fund performance and dividend data provided by Morningstar Inc. Analyst recommendations provided by Zacks Investment Research. StockScouter data provided by Verus Analytics. IPO data provided by Hoover's Inc. Index membership data provided by Morningstar Inc.
MARKET UPDATE
[BRIEFING.COM] The stock market finished an upbeat week on a mixed note. The S&P 500 shed less than a point, ending the week higher by 1.3%, while the Dow Jones Industrial Average (+0.1%) cemented a 1.7% advance for the week. High-beta names underperformed, which weighed on the Nasdaq Composite (-0.3%) and the Russell 2000 (-1.3%).

Equity indices displayed strength in the early going with the S&P 500 tagging the 2,019 level during the opening 30 minutes of the action. However, ... More
More Market News