Teen 'Desperate Housewives' actress gives stock tips
Rachel Fox, the 16-year-old who played Kayla Scavo on ABC, says she sees a 64% trading return per year. And she wants to teach you how.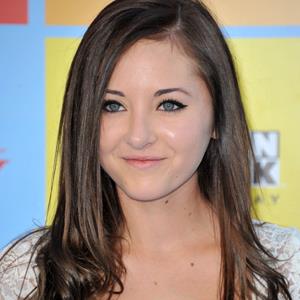 If acting doesn't work out, 16-year-old actress Rachel Fox apparently has a lucrative side business that's panning out: playing the stock market. 

Fox has a blog and creates video episodes called "Fox on Stocks" (a nod to the Dr. Seuss picture-book classic "Fox in Socks?") in which she aims to teach others how to trade stocks. She claims she earns more than 64% on her investments per year. 
"I'm best known to the world for playing roles like evil Kayla Scavo on 'Desperate Housewives'," she said in her latest video blog, presumably taped before she turned 16. "I'm one of the only 15-year-old stock-trading actresses around." Um, there are others? 
Fox's approach is to teach the basics to her fans, such as how to read a stock quote on your iPhone. (In the video, she pronounces the FTSE 100, the London Stock Exchange index, by its initials, instead of the typical pronunciation of "footsie.")
She also writes blog posts on topics such as the "Dogs of the Dow," an investment strategy developed several years before she was born. The technique seeks to select the stocks within the Dow Jones Industrial Average whose dividend yield is highest. 
About the strategy, she writes, "While I much prefer making my money quickly and in a 'high risk = high reward' fashion, long-term investing is great for people who are older or people who are more comfortable with safer investments."
She added, "The difficult part of long-term investing is picking the right stock or group of stocks to invest in." 
That's something that any investor could relate to. After all, picking the right stocks is basically what a huge chunk of the financial services industry is based on. 
As for her own stock trading ideas, Fox writes that she "cannot explain why I am so successful as a stock trader, but I think it may have to do with being fearless and having nerves of steel."
More on moneyNOW

Stories like this are an indication of 1 thing - a massive pullback isn't far off.  I remember reading similar stories back in the late 90s, right before the tech bubble popped.  There were a couple of high school wunderkinds who were making big bucks day trading, allegedly.  Wonder where they are now?  They probably qualified for a no-doc mortgage about 5 years ago and now live in a cardboard box.


BINGO Brutus,

Let's not forget..... she's 16!  Probably was not a trader pre 2009 and has road the wave up, thinking it had something to do with her intelligence.

If she knows the right time to get out, avoids the coming, inevitable correction, then get back in at the right time, missing all the pain, then we all might need to start listening....


Are you sure you want to delete this comment?
DATA PROVIDERS
Copyright © 2014 Microsoft. All rights reserved.
Fundamental company data and historical chart data provided by Morningstar Inc. Real-time index quotes and delayed quotes supplied by Morningstar Inc. Quotes delayed by up to 15 minutes, except where indicated otherwise. Fund summary, fund performance and dividend data provided by Morningstar Inc. Analyst recommendations provided by Zacks Investment Research. StockScouter data provided by Verus Analytics. IPO data provided by Hoover's Inc. Index membership data provided by Morningstar Inc.
MARKET UPDATE
[BRIEFING.COM] The stock market finished the Tuesday session on the defensive after spending the entire day in a steady retreat. The S&P 500 (-0.6%) posted its third consecutive decline, while the small-cap Russell 2000 (-0.9%) slipped behind the broader market during afternoon action.

Equity indices were pressured from the start following some overnight developments that weighed on sentiment. The market tried to overcome the early weakness, but could not stage a sustained rebound, ... More
More Market News