Which chain's fast food do consumers like best?
Surprise -- it's Wendy's, and by a wide margin. Its performance underscores the challenges facing McDonald's.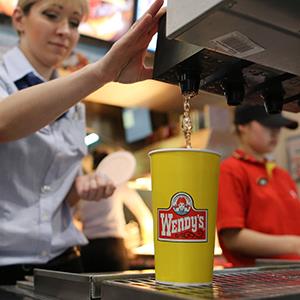 If the fast-food business held a popularity contest,
Wendy's
(
WEN
) would win hands down.
According to data from Technomic, a food industry market researcher and consultant, the Dublin, Ohio-based chain was preferred by consumers over
Burger King
(
BKW
) and
McDonald's
(
MCD
), in food quality and taste and flavor. It wasn't even close.
Wendy's was rated excellent by 50.9% of consumers for food quality compared with 44.2% for Burger King and 37.4% for McDonald's, according to Technomic Consumer Brand Metrics. The numbers for food taste and flavor were just as stark. Wendy's scored 56.5% in that category, surpassing Burger King's 49.4% and McDonald's 40.7%. The data are based on interviews with consumers who have visited the chains within the last 30 days.
Denny Lynch, Wendy's senior vice president for communications, told MSN Money that the company wasn't aware of the Technomic findings but nonetheless found them "gratifying." The chain is in the midst of a "brand transformation" that's changing everything from its crew uniforms to its menu.
"Our mission is to be a cut above the competition," he said, adding that Technomic is "well-known and highly respected" in the restaurant industry. "Every day, you have to satisfy each individual customer."
Officials from McDonald's and Burger King couldn't be reached for comment. In the eyes of Wall Street, though, McDonald's is still the fast-food champ. Its shares have jumped more than 15% this year, compared with 12.2% for Burger King and 2.2% for Wendy's.
Wendy's is benefiting from a marketing campaign that stresses the freshness of its food as opposed to its low cost, which rivals such as McDonald's highlight, according to Darren Tristano, a Technomic vice president.
Wendy's share of the fast-food market grew at a compound annual growth rate of 1.6% between 2006 and 2012, according to Technomic. Burger King's share grew at 0.4% during that same time, while McDonald's posted a 4.6% gain. On that basis, McDonald's had a 47.6% share of the market, while Burger King and Wendy's each held 17.5%.
Technomic's data underscore the problems facing McDonald's, which reported a decline of 1.1% in same-store sales in its most recent quarter and warned that it faced a "challenging" global environment. Heightened competition also is affecting the Golden Arches.
For instance, Burger King is expanding its test of delivery service that it first offered last year in Washington, D.C., to Houston, Miami and New York, according to media reports. The company is due to report its latest earnings Friday. Analysts are forecasting profit of 17 cents per share on revenue of $318.67 million. Wendy's is scheduled to report its latest earnings on May 8.
As for McDonald's, Tristano cautions against underestimating the Oakborok, Ill.-based giant.
"Lots of restaurants struggled in the first quarter," he said. "It's hard to criticize them. . . . They have been very innovative in snacking and beverages."
Indeed, Micky D's probably has plenty of tricks up its sleeve. But then again, so do its rivals.
Jonathan Berr owns a small position in McDonald's. Follow him on Twitter @jdberr.
DATA PROVIDERS
Copyright © 2014 Microsoft. All rights reserved.
Fundamental company data and historical chart data provided by Morningstar Inc. Real-time index quotes and delayed quotes supplied by Morningstar Inc. Quotes delayed by up to 15 minutes, except where indicated otherwise. Fund summary, fund performance and dividend data provided by Morningstar Inc. Analyst recommendations provided by Zacks Investment Research. StockScouter data provided by Verus Analytics. IPO data provided by Hoover's Inc. Index membership data provided by Morningstar Inc.
MARKET UPDATE
[BRIEFING.COM] The stock market began the new week on a cautious note. The S&P 500 lost 0.3%, but managed to erase more than half of its opening decline. Thanks to the rebound, the benchmark index reclaimed its 50-day moving average (1976.78) after slipping below that level in the morning.

Equities slumped at the open amid a couple global developments that dampened the overall risk appetite. Continued student protests in Hong Kong and a potential response from China weighed on the ... More
More Market News