Groups: Camel cigarettes still targeting kids
Health groups say new magazine ads are wooing teen smokers, which would violate a 1998 agreement banning the practice.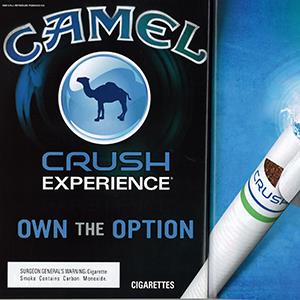 Joe Camel is long dead, but cigarette industry critics say his spirit is still telling American kids to smoke 'em if they've got 'em.
The American Heart Association, American Lung Association, The Campaign For Tobacco-Free Kids and several other health groups are asking at least two state attorneys to investigate a new Camel cigarette ad campaign that's appeared in more than two dozen magazines.

The issue is that Camel's maker, Reynolds American (RAI), is not only hawking Camel Crush cigarettes that let smokers crush a capsule in the filter to release more flavor, but are advertising it in magazines with large numbers of teenage readers, which would violate the 1998 Tobacco Master Settlement Agreement prohibiting such ads.
The groups charge that the ad in question (pictured) ran in at least nine magazines -- Entertainment Weekly, ESPN the Magazine, Sports Illustrated, Rolling Stone, People, Glamour, InStyle, US Weekly and Vogue -- with a combined 12.9 million readers ages 12-17, according to consumer research firm GfK MRI. That's a bit of an issue when Camel is one of the three most popular cigarette brands among young smokers, with the 2011 National Survey on Drug Use and Health finding that 15.1% of underage smokers prefer Camels.
Reynolds American spokesman Richard Smith told The Associated Press that his company believes the ads are in full compliance with the settlement and that it advertises in only magazines with an adult readership of 85% or higher.

That claim might stand on firmer ground if Reynolds hadn't already been forced to pull ads from Rolling Stone in 2007 after trying to link Camels to indie rock labels through notebook-style cartoon scribbles. That same year, Reynolds came under fire as ads for Camel No. 9s appeared in fashion magazines with fake editorial that, according to 2010 study published in the journal Pediatrics, provided "credible evidence that the Camel No. 9 cigarette advertising campaign has targeted under-aged girls."
There's also the not-so-small matter of Joe Camel, the brand's former cartoon mascot who, during his run from 1987 to 1997, was almost as recognizable to small children as Mickey Mouse.
The problem is that while tobacco ads are banned from the radio, television and billboards, magazines are still fair game as long as tobacco companies like Reynolds, Lorillard (LO) and Altria's (MO) Philip Morris play by the tobacco settlement's rules. As the latest Camel ad illustrates, those rules leave little margin for error.
DATA PROVIDERS
Copyright © 2014 Microsoft. All rights reserved.
Fundamental company data and historical chart data provided by Morningstar Inc. Real-time index quotes and delayed quotes supplied by Morningstar Inc. Quotes delayed by up to 15 minutes, except where indicated otherwise. Fund summary, fund performance and dividend data provided by Morningstar Inc. Analyst recommendations provided by Zacks Investment Research. StockScouter data provided by Verus Analytics. IPO data provided by Hoover's Inc. Index membership data provided by Morningstar Inc.
MARKET UPDATE
[BRIEFING.COM] S&P futures vs fair value: -5.50. Nasdaq futures vs fair value: -13.00. Nasdaq at... NYSE Adv/Dec 0/0... Nasdaq Adv/Dec 0/0.
More Market News