Mark Kelly's gun buy triggers Facebook firestorm
The husband of former US Rep. Gabrielle Giffords shows how easy it is to buy a military-style rifle. But walking out the store with that rifle isn't easy at all.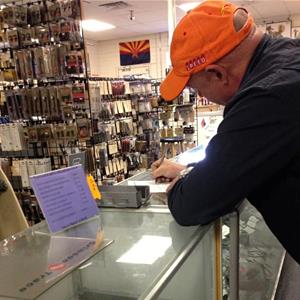 The photo itself is fairly mundane. Mark Kelly, the husband of former U.S. Rep. Gabrielle Giffords, posted a picture Friday on
Facebook
(
FB
) of himself signing paperwork to buy a military-style rifle.
But that photo (pictured) has started a firestorm of debate, attracting more than 5,000 comments about gun control, the government, and politics. Many commenters called Kelly a hypocrite, while others cheered him on. The discussion comes as Congress pushes forward with legislation mandating stricter background checks for gun purchases.
In
his posting
, Kelly said he went to a gun store in Tucson, Ariz., to buy a 45.-caliber handgun. As he was leaving, he noticed a used AR-15 rifle and bought it as well. He noted how easy it was to buy the rifle.
"Even to buy an assault weapon, the background check only takes a matter of minutes," Kelly wrote. "Scary to think of people buying guns like these without a background check at a gun show or the Internet. We really need to close the gun show and private seller loop hole."
But Kelly didn't actually walk out with the rifle. The owner of the gun shop
told
The Associated Press that Kelly bought the weapon on March 5 but because he had bought it used from a customer, the store was legally required to hold the gun for 20 days to make sure it hadn't been used in a crime.
Kelly said in his post that he didn't have possession of the gun yet, and that he will turn the rifle over to Tucson's police department when he does receive it.
His post drew plenty of criticism on Facebook. "Nice marketing stunt," one person wrote. "Only thing you proved is that background checks work."
Kelly has become a vocal supporter of gun control since his wife was seriously injured in a mass shooting outside of a Tucson supermarket two years ago. He and Giffords have pushed for expanded background checks at gun stores, gun shows and in private seller transactions.
The National Rifle Association was also critical of Kelly's purchase. NRA board member Todd Rathner suggested that Kelly pulled a "cheap publicity stunt," and said that Kelly, as a model U.S. citizen, shouldn't have any problem buying a gun,
according to
The Associated Press.
DATA PROVIDERS
Copyright © 2014 Microsoft. All rights reserved.
Fundamental company data and historical chart data provided by Morningstar Inc. Real-time index quotes and delayed quotes supplied by Morningstar Inc. Quotes delayed by up to 15 minutes, except where indicated otherwise. Fund summary, fund performance and dividend data provided by Morningstar Inc. Analyst recommendations provided by Zacks Investment Research. StockScouter data provided by Verus Analytics. IPO data provided by Hoover's Inc. Index membership data provided by Morningstar Inc.
MARKET UPDATE
[BRIEFING.COM] S&P futures vs fair value: -8.00. Nasdaq futures vs fair value: -19.00. Nasdaq at... NYSE Adv/Dec 0/0... Nasdaq Adv/Dec 0/0.
More Market News