Government mulls looser in-flight device rules
One agency leader advocates for more time to use e-readers and tablets, saying they help drive economic growth.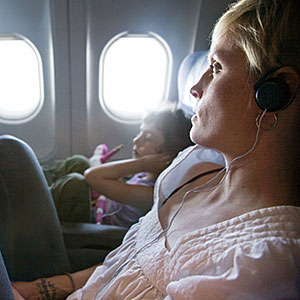 Should airline passengers be able to use iPads and Kindles during takeoff and landing? One federal agency is arguing for looser restrictions as regulators review policies about using devices in the air.

The battle to allow gadgets during takeoff and landing grew more pitched last week as Federal Communications Commission chairman Julius Genachowski sent a letter to acting Federal Aviation Administration administrator Michael Huerta asking him to dial back restrictions on device usage. According to the letter intercepted by The Hill writer Jennifer Martinez, Genachowski thinks expanding the use of tablets, e-readers, and other portable devices would help not only harried passengers, but the economy in general.
"This review comes at a time of tremendous innovation, as mobile devices are increasingly interwoven in our daily lives," Genachowski wrote. "They empower people to stay informed and connected with friends and family, and they enable both large and small businesses to be more productive and efficient, helping drive economic growth and boost U.S. competitiveness."
Perhaps that's laying it on a bit thick just to allow passengers to thumb through their free downloaded copy of "A Christmas Carol," but Genachowski's seizing his opportunity. With the FAA rethinking restrictions on all devices but cell phones, the FCC's position on the matter only reinforces the argument for keeping those devices on an extra half hour or so.
The FAA position against such device usage is already eroding. Back in 2006, the agency studied the potential for electromagnetic interference from portable electronics and couldn't find any evidence that the devices imperiled passengers during takeoff and landing. It also decided that there wasn't enough evidence to change its decades-old policy and opted to keep it in place.
Even the FAA's stance on cell phones, which operate on the same frequency as airline navigation equipment, relies on vague evidence as its support. In August, the FAA released a study on in-flight cellphone use in European countries and found no direct interference resulting from their use.
With many airlines already offering Wi-Fi as an amenity, some carriers have been testing the boundaries of the FCC's device restrictions. American Airlines (AAMRQ) lets pilots use Apple (AAPL) iPads instead of paper flight manuals. Virgin Atlantic began allowing limited in-flight cell phone use in May.
Still, the FAA and airlines are still prickly about such things. Delta (DAL) escorted the chief executive of a tech startup off of a flight in may for using Delta's GoGo wi-fi services and an app he developed to make internet-based calls and texts during a New York-bound flight in May. They also argue that takeoff and landing are still the most dangerous portions of a flight and the moments when they need customers at their most alert.
Still, that doesn't stop passengers from flipping through a copy of Skymall or some magazine they bought in the terminal during those same perilous takeoffs and landings. Perhaps the bigger issue is that neither the FAA nor the airlines want to foot the bill for testing devices under current regulations.
Back in March, Virgin America vice president of corporate communications Abby Lunardini told Nick Bilton of the New York Times that FAA rules require airlines to test each version of a single device before it can be approved. That's an empty flight on every airline for every version of Apple's iPad, Amazon's (AMZN) Kindle, Samsung's Galaxy products and just about anything else that would preclude you from bringing a bag full of books or magazines on a transatlantic flight.
The FCC's pleas for more device time on flights may be little more than intergovernmental griping. If they somehow push the FAA into less-onerous device testing and policy, it could make the overfull, fee-heavy skies just a little friendlier.
More from Money Now

...as mobile devices are increasingly interwoven in our daily lives.."

Ha! That should really read, "...as people are increasingly becoming addicted to mobile devices and the use of such in their daily lives, most often to the detriment of real, face-to-face human interaction."

If they ever really allow unlimited cellphone use in planes, especially on long-haul flights, I plan on developing a long-haul coughing attack so that I don't have to listen to these cellphone-addicted idiots screaming in their phones during the entire flight.

Are you sure you want to delete this comment?
DATA PROVIDERS
Copyright © 2014 Microsoft. All rights reserved.
Fundamental company data and historical chart data provided by Morningstar Inc. Real-time index quotes and delayed quotes supplied by Morningstar Inc. Quotes delayed by up to 15 minutes, except where indicated otherwise. Fund summary, fund performance and dividend data provided by Morningstar Inc. Analyst recommendations provided by Zacks Investment Research. StockScouter data provided by Verus Analytics. IPO data provided by Hoover's Inc. Index membership data provided by Morningstar Inc.
MARKET UPDATE
[BRIEFING.COM] The stock market finished an upbeat week on a mixed note. The S&P 500 shed less than a point, ending the week higher by 1.3%, while the Dow Jones Industrial Average (+0.1%) cemented a 1.7% advance for the week. High-beta names underperformed, which weighed on the Nasdaq Composite (-0.3%) and the Russell 2000 (-1.3%).

Equity indices displayed strength in the early going with the S&P 500 tagging the 2,019 level during the opening 30 minutes of the action. However, ... More
More Market News